[vc_row][vc_column width="1/1"][vc_column_text]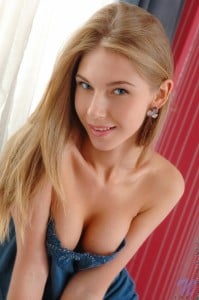 If you are a fan of gorgeous Russian women, you have probably discovered this lovely lady by far. If you haven't, it's high time to get to know her. Krystal Boyd is the stage name for this gorgeous Russian beauty, born on April 14
th
1993 in Moscow. Professionally, she is also known as Krystal Boyd, but there is a plethora of names she calls herself such as Angel, Slim Anya, Megan, Vera, Katherine, Ksusha, Abbey or Snejana (which in Russian means Snow White). And it seems that the names such as the last one, completely suit her, because of her creamy skin, the angelic looking face and crystal blue eyes that are definitely seducing the cameras as well as the fans who are devotedly watching her movies. Her petite frame definitely helps her star in whatever genre she wants, starting from teen, art, soft core or hard core, to sensual and erotic videos and photo shoots. She weighs 42 kilograms and is 159 cm tall, and without a doubt she can persuade a photo model career if she ever feels like retiring from the adult movies. Unlikely most of the women who are in the porn industry, Krystal still haven't had undertaken any plastic surgery, keeping her body natural and free of any tattoos or piercings. Her measurements are divine, with 72-58-81 for breast, waist and hips.
Early Life and Career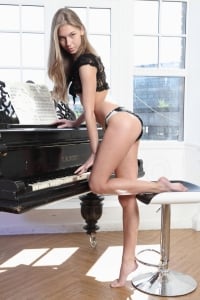 The twenty-two year old porn star have started her career with nude photo-sessions and then slowly turned into working in solo girl soft-core videos, where she was teasing the viewers with her astonishing body and her lovely face and of course with her performances. As she was growing older and more confident, Krystal approached the pornography business more serious, and started filming professional porn films with male and female co-stars, engaging herself in all kinds of sexual activities that are most definitely popular among the viewers. No wonder she got so popular at such young age. Her performances have been seen by millions of viewers.
Call her Angelica, Abby, Ebbi, Katherine ...
Her natural looks helped her get best reviews from fans and currently she is on 20
th
place on the global rank on
Freeone.com
. With over 20 adult movies made, she still works actively in the porn movie industry in the past four years, having her debut back in 2011. Her Facebook fan page is active and she has over eleven thousand fans that are following her there and enjoying the photos she posts. Also, she also has a Twitter account, followed by over 24 thousand fans, but she isn't very active on that social network, although if you decide to follow her, you will get the pleasure of seeing her photos even from porn photo sessions. Besides the social networks, you can google her name and get some lovely photo shoots (nude and dressed) as well as her videos, which are rated with high score of 4.65 on the porn website freeone.com. Among her movies you can get to pick and watch any of her performance in absolutely every porn genre such as group sex, masturbation or anal sex. For more info about her work (visual of course) you can find her videos on almost any popular porn website online.[/vc_column_text][/vc_column][/vc_row][vc_row][vc_column width="1/1"][/vc_column][/vc_row]
Date posted: January 7, 2015