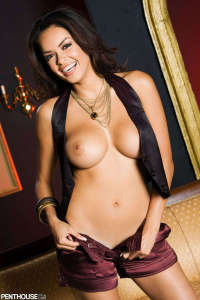 With almost 400 credits under her figurative belt, it can be said that the petite Daisy Marie is an accomplished actress – she has gathered
15 nominations and awards
, as well as a huge fanbase since she
started working in 2002
. Born on the 6
th
of February 1984 as Brittania Ochoa and having a
Mexican and American lineage
, the actress confessed that she lost her virginity when she was 15 years of age. As she later on said, this wasn't her first sexual experience whatsoever. Instead, before losing her virginity to a boy, she already had lesbian love-making session – but she is still a men's girl, even if she herself has to turn her head when a beautiful and sexy woman passes by.Her first jobs were, obviously, modeling ones. But not any type of modeling, since she liked showing as much as possible of her body – so before appearing in adult films she was a bikini model. She started shooting hardcore films as soon as she turned 18.As she said, working as a pornstar is a means of
expressing her sexual nature
ad her own sexuality – in other words, she doesn't really like being in the closet, no matter what the point of view is. As she also said, she is a very active from a sexual point of view and sex is a means of expressing oneself.This doesn't mean at all that she is ready to put out with the first man that asks for her favors – after all, she can distinguish between her job as a pornstar and her private life. However, when she is out on the prowl, Daisy Marie knows what she wants and she will do anything in order to obtain it.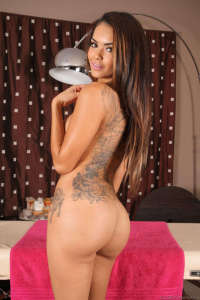 As far as her sexual life is concerned, she has done it all – from kicking fat guys in the balls to being treated herself as an object. But what remained stuck in her memory was the
first time when she squirted
– and that is because she didn't believe she was able to do that.Daisy Marie is the kind of actress that could get any man hard. Among her awards, in 2009 she was named
FAME's most underrated starlet
– and that is not because of her skills, but because she considered going mainstream in 2008. In 2005 she appeared in
50 Cent's Disco Inferno
, while in 2007 she was spotted in
Nickleback's Rockstar
(3:29).Daisy Marie has charmed her way into the hearts (and pants) of many fans all around the world. Besides her physical attributes (she has taken the best from both the American and Mexican heritage), she has no less than
7 tattoos on her body
(with the most prominent one being the cherub that covers her back) and
5 piercings
.Although the ever so lovely actress hasn't shot any hardcore films for quite a while, she does stick close to her fans via Twitter and other social websites. She still does photo-shoots and she runs her own naughty website.
Date posted: February 4, 2015