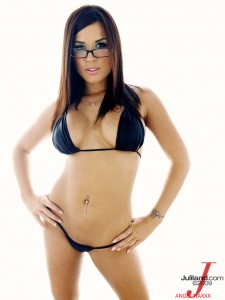 Eva Angelina is a petite chick with awesome big boobs and a great ass, who became famous in the world of adult industry due to her skills and the attention she gives to her fans. She became famous for fulfilling one of the guys' biggest fantasies and performing while wearing glasses. Needless to say, she took lots of cumshots on her glasses, so if you are into that, you definitely need to check her out. Eva won several awards in the porn industry for her performances, even if she started out at a very young age. She is an all-natural starlet, with no major cosmetic interventions or implants. Sweet and smart, Eva Angelina is the center of attention on any porn set, entertaining the rest of the crew, taking care of the newcomers and coming up with all kinds of useful ideas about how to improve her scenes. All in all, she is the perfect porn star material, so read more about her and fall in love.
Young and Ambitious Porn Stars
The beginning of her career was a simple and free of any scandal or sex tapes, thing that's so rare amongst today's porn stars. She wasn't an exotic dancer, not a sugar babe. One day while she was looking for a job in a newspaper, she saw a casting announcement. The casting was held by Shane's World, one of the first reality porn companies, who assigned her for a part in the Mr. Pete series. This happened in 2003, when Eva just turned 18. At first, she was a bit shy and afraid of what people would think about her. But she soon embraced the porn career and decided to make the best of it.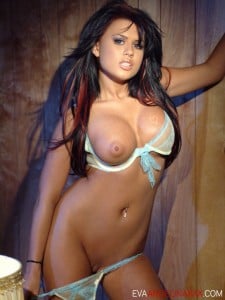 Because of her always increasing popularity, she was casted in main roles by all major porn companies in LA, performing with legendary men such as James Dean, Marco Banderas or Mick Blue. Eva Angelina is also a highly awarder performers, having more wins than other porn stars have nominations. Between 2007 and 2011, the peak of her career, she received no less than 9 XCRO and AVN awards, including best actress, female performer of the year, best all-girl group sex scene and a win for her solo performance. During her career, she took several leaves and it's not only shooting girl/girl scenes. Overall, she was featured in over 500 movies and she doesn't plan to stop anytime soon.
Who Is the Real Eva
The real Eva is a bisexual, travel enthusiast and most of all, devoted mom to a little girl. She was married for a couple of years with British porn star Danny Mountain, but they divorced in 2009 and now they share the custody of their child. The reason for her divorce is still unknown, but some say that it's because her sexual identity. However, the logic dictates that the entire marriage was a huge drunken mistake, as they got married soon after shooting their first scene together, in a Las Vegas chapel. Eve is a real bisexual and in several occasion she was seen on public dates with other women. Eva Angelina is a wild spirit with a beautiful mind, outgoing and always happy. These traits made her a modern day muse for many artists in LA. She even inspired a song named after her, sing by Coma Cinema, which can be found on the Blue Suicide album. At one point, when she couldn't find herself, Eva wanted to join the US Navy, but she gave up on this dream after a long and complicated registration process. All in all, she is a pretty simple girl, who went through a lot, but never let her personal life interfere with her career.
Date posted: September 22, 2015