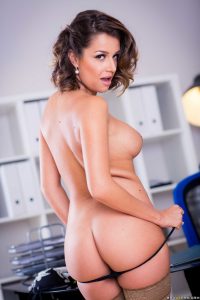 Cara St Germain or Cara Saint Germain, as she is often credited is another French babe born on September 12, 1989, in Aix en Provence. Petite and with an adorable face, Cara easily found her spot in the porn industry where she successfully performs for two-three years.
In 2014 Cara began her career in the adult entertainment and shot her initial pornographic scenes for the adult studio Dorcel. When interviewers ask her why did she choose porn (she could have easily been an actress or a photo model with that face and body), she would have answered that porn chose her, not the other way around.
Cara first started as a camgirl in France solely because she enjoyed showing her nude body; she describes herself as a total exhibitionist. She was often performing sexual acts with her boyfriend. After one exceptionally hot sex with her boyfriend in front of her personal camera, Cara decided that it was high time for her to pursue a career in the adult entertainment industry. She always wanted to be watched while having sex, as well to be worshiped and wanted by every man and woman in the world. And the best place to get all that was in the adult entertainment industry.
While camming one night with her fans, Cara was discovered by Marc Dorcel. He is a famous and experienced producer who noticed Cara's incredible body, also talent and natural attitude towards the camera.  He contacted her and offered her a unique chance to start a career in the porn world, which Cara obviously accepted. Instantly, she became very popular in France and soon in Europe. In just a few years, Sara has shot numerous scenes in genres such as threesome, hardcore, big cock, big boobs and so on.
Her career in the porn industry brought her popularity and money of course. Cara is a big fan of haute couture, which is easily seen on her social media where she posts pictures of her outfits, nails, hair, and makeup. She shows incredible fashion sense (she's French after all).
In her spare time when she is not shooting porn scenes or modeling, Sara loves working out in order to keep her hot body in shape. Besides her enhanced breasts, Sara's body is completely natural. She has inked a tribal design on her right bikini line.
Date posted: August 19, 2017