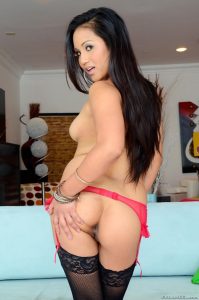 This petite Asian porn star was born on June 29, 1988, in Orange County, California. Although she is of Asian descent, very often she is confused to be a Latina, which suggests that she might be mixed race.
Once Lana turned nineteen years of age (in 2008) she found the website sexyjob.com. She had the intention to become a stripper, but somehow all the job offers on the website were for shooting adult films. That is how Lana decided to give shooting porn films a try. She went to the valley (Los Angeles) and met her first agent and simply decided to do this for a living. Even though her main wish was to be a dancer, her agent convinced her that she is ideal for a porn star. After Lana shot her initial scenes, she realized that she liked porn and decided to stay.
Within her career of nine years, Lana has performed in numerous sex scenes in genres such as threesome, hardcore, teen, lesbian, interracial, Asian, orgy, extreme and masturbation. Lana has tattooed a mathematical symbol for infinity on the inside of her right ankle. She also has a piercing in her navel. Her body is completely natural.
Date posted: September 12, 2017