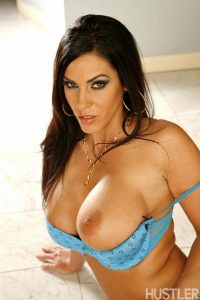 Veronica Rayne was born on November 29, 1976 in Newbury Port, Massachusetts. She is of Italian descent.Veronica worked as a manager in a night club when she met the porn actor Jack Vegas (whom she later married), who at that time worked as the head of security. In 2003, at the age of twenty-seven, Rayne officially started her porn career when she met the porn legend Ron Jeremy while she was dancing in Boston. She has been actively shooting for seven years, when she decided to retire in 2010. Her hiatus was five years long and she officially returned to shooting in 2015 and she is still active.
In her long career, Veronica has created some really memorable and breathtaking scenes in genres such as lesbian, threesome, housewife, mature, big boobs, blowjobs, hardcore, facial, masturbating and anal. Throughout the years Veronica has created a recognizable talent of hers which is the squirting; she is also known as the anal and squirting queen.
In November 2008, Veronica took part in the Fox Reality Channel TV show My Bare Lady 2: Open For Business! My Bare Lady 2; the show was  focused on adult stars trying their chances at business ventures. The show had eight episodes.
Veronica's hard and passionate work did not go unnoticed; she has several nominations including 2008 AVN Award nominee – Best Group Sex Scene, Video – Upload 2009 AVN Award nominee – The Jenna Jameson Crossover Star of the Year, 2009 AVN Award nominee – Best Group Sex Scene Pirates II, 2009 XBIZ Award nominee – Crossover Star of the Year 2008 AVN Award- Best Group Sex. Veronica has performed in total of 235 adult films; some of the most popular films of her are: Jack's MILF Show, Fuck My Tits 1, Boobtastic, Boy Meats MILF 2, Big Boob Circus and so on.
In 2000 Veronica married fellow porn star Jack Vegas. In 2008 Rayne and Vegas opened a restaurant and lounge in Tarzana called Oxygen. She has her breasts enhanced and her current cup size is 34DD. Veronica is also a fan of tattoos and has a couple on her body including a small frog divided into the Italian colors on her left thigh and a Chinese symbol on the back of her neck. Her navel is pierced.
Date posted: July 14, 2017