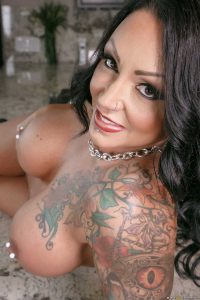 There are two things that everyone in the industry wants out of Ashton Blake which either includes blowing a load all over her cute face or down her tight throat. One thing that I want to start off with saying is that Ashton has only done one movie, her most recent work, but all of her remaining work are web scenes. You might have heard of her on such sites as azianiiron.com, povtrain.com, and gangbangcreampie.com. One of the first things that she did was a web scene called Don't Fuck With this Milf that was released in 2014 by Brazzers Network. The most recent, and only, flick she was in was called Watching My Mommy Go Black 15 and distributed by Hush Hush Entertainment. It was the only thing where you got to see Ashton as herself, and it was released this year. Can we expect to see more of her? Well seeing how she has been steadily releasing either web scenes or flicks then there is not doubt in my mind. Just last year she came out with six web scenes meaning that she is still very much in the adult flick, but I would love to see more of this actress in general.
Lacking In Known Content
Sadly she does not have enough web scenes released for me to put her work into large niches as tradition. She does have three niches that she is experienced with including facial and blowjob content. If you want to see her struggling to breathe through cum then you might want to see: Gangbang Creampie 37, Don't Fuck With this Milf, Ashton POV - Guy 1 (Jaxxx), Ashton POV - Guy 3 (Mitt), Fuck My Pussy, Not My Daughter's, Pimp My Mom, and Ashton Blake HD Video 1.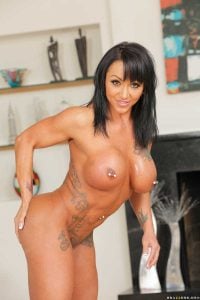 If you just ant to see her giving some top notch head then you might be more interested in: Strippers Come Home Horny From The Club, Jewels, and Ashton Share Big Cock From The Club, My Friend's Hot Mom 19285, Ashton's Third Glory Hole Video, Ashton's Second Glory Hole Video, and Ashton's First Gloryhole Video. The rest of her niches, such as reality and anal content, she has only made one to three web scenes/flicks on.
Sound Only Interview?
This is the
first sound only interview
that I have seen and it suffers from only one thing is that I cannot understand Ashton. This has nothing to do with her voice as it is sexy as all hell, but it is her sound quality. It sounds as if she is using a mic that is connecting to a pair of headphones instead of the professional set up that Robert, the interviewee, has. One way that I would fix this is to have the actress come in the room with you instead of having a web call with her. Sadly there is no other interview of this star at the time, so it is a shame that we will never know how this actress started out her career. I would love to see a different type of interview, maybe the twenty question format, so we can find out who this actress is.
Date posted: July 7, 2017