Early Life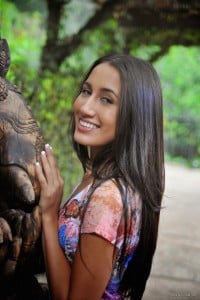 Amia was born on November 23, 1990 in Satellite Beach, Florida. She was a very prudish and innocent girl who wasn't promiscuous, but was dating a lot of guys in high school. However, she didn't have sex with them, they were just kissing. She was a cheerleader and friends with everyone, but wasn't the typical stereotypical arrogant cheerleader. Amia was good at math and science. Before porn she worked in a marketing company full time (she worked there since she was 15).
Porn Career
Being a pretty girl with a cute smile and lovely voice, Amia became part of the adult film industry in 2009. She was 18 years old, and started filming solo scenes for FTV. Before porn she was a model and did a fashion show for Adam & Eve (she had no idea that it was a porn company until the last moment). Afterwards she was a swim suit model and already knew people who were doing porn. Once she watched Pirates she realized what she wanted to do. So far she has appeared in over 100 videos and has worked Adam & Eve, Bluebird Films, Brazzers, Digital Sin, Elegant Angel, Evil Angel, Hustler Video, Jules Jordan Video, Kink.com, New Sensations, Vivid Entertainment, and Wicked Pictures. In 2010, she was the cover model and also appeared in a photo layout in the men's magazine
Cheri
.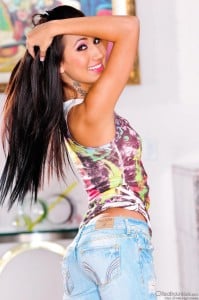 In 2011, Amia appeared in a public service announcement about safe sex that was made by the production company Brazzers (it was part of their campaign, GetRubber, which was a  condom promotion). Although Miley doesn't film for five years, this year several videos where she appeared will be released.  In 2013, she appeared in the Britney Spears' video for the song "Work Bitch".
Personal Life
Her mother was always telling her that she would end up being a porn star or an escort, not because Amia was slutty, but simply because she was dressing provocatively and hanged out with lots of boys. Now that she knows what Amia does for living, she isn't the happiest but she tries to be supportive. She even accompanies her daughter to conventions. In 2012 she dated the Jersey Shore cast member Jonny "The Unit" Manfre. She has her tongue and navel pierced, as well as both of her wrists and her lower back. Being a fan of tattoos she has japanese characters on right side of neck; "Proverbs / 27:19 / 31:10-31" inside of her upper right forearm; red flower on her left foot; number eleven on her left finger; yin yang symbol inside of her left leg above the ankle; Chinese characters inside her right arm just above wrist.
Might Interest You:
Date posted: September 11, 2016