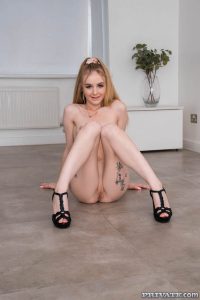 Baby Kitten or Baby Kxtten. Let us hope that however you found her, it was not by typing in one of the two words of her name into the search box of an adult site. Cats sound fine if you are into those new things, but kittens, and babies especially, are FBI search worthy. The bearer of this strange alias choice is the English actress, born on October 6, 1999, in Walsall. After deciding to quit a door-to-door sales job, Kitten had an epiphany to solve her financial worries. She had indulged in porn videos since she was 13 years old, and when 18 came knocking, also did the realization of what her destiny was. That is how her Only Fans was born with the name Baby Dog, only to be changed to Baby Kitten because it sounded much better, and she had cats- a truly incredible and inspiring backstory.
A Kinky British Gal
Baby Kitten started her career in early 2021, with one of her first scenes being on May 29, 2021, with Raylan Franco for the studio Space Hoppers (Hopping Teen Slut (2021)). Blessed with porcelain-white skin thanks to the lovely British weather, Kitten actually looked great in her sexy schoolgirl outfit. However, behind this innocent-looking girl is a kinky fanatic. Her love of submitting and being humiliated in front of the cameras is fascinating at its lowest. Her penchant for unusually rough play can already be seen in 2021 in scenes for Gonzo (Gonzo SZ2785 (Wet) (2021)), and Angelo Godshack Original (Angelo Godshack Original 134884 (2022)). In those videos, players like Luca Ferrero are common, as they are known for their roles in that category. Counting to December 2022, Baby Kitten has appeared in over 100 scenes, providing the industry with a significant amount of content in different varieties. She has collaborated with several of the most renowned studios in the industry, including Evil Angel, Badoink, Brazzers, Legal Porno, and many more. For their cameras, Baby Kitten had the pleasure of filming with many celebrated actors. Some of them are Paul Stalker (Stalker Prodz 136896 (2022)), Danny D (Banging The Banker (2022)), Vince Karter (Rocco's Sex Clinic: Treatment 3 (2022)), and Freddy Gong and Mark Longwood (Two Cocks For Baby Kxtten (2022)). With her style and appetite for brutal BDSM, Baby Kitten could go quite far, as she has shown by having over 100 scenes. But to show a bit of Kitten's sexual and acting versatility, it is necessary to mention the scene with Cassie Del Isla (Harmony's Girl Girl Superstars (2021)). Not even in a completely lesbian scene can the gals take a break from rough play.
Rest for a Hardcore Princess
When Kitten is off work, she usually chooses activities that let her unwind and recharge. She craves leisure after a long day of work, especially when it is as hard and rough as hers, no matter how exciting it is for her. She, therefore, watches some movies or television shows and listens to music. Activities that are generally unavailable to Brits are great for her and can be found on the west coast's sunny beaches.
Date posted: July 24, 2023