Turbulent Mind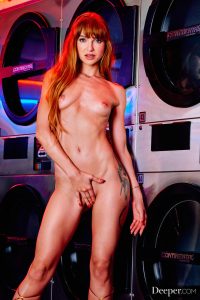 Peace. That is what most want—a piece of the pie that brings them peace and nothing more. Life on the calm seas. But some, like Little Dragon, live for the storms and hurricanes. For the rush of endorphins that comes with pushing yourself to the limit. Whatever it is: skydiving, climbing, rafting, any form of nature-given amphetamine, including lovemaking. And if you can slip a couple of bucks into your pocket by doing it, why wouldn't you? That is the rationale behind Little Dragon, a Ukrainian girl born in Kyiv on September 2, 1994.
Dragon Riding
This Ukrainian girl wanted to flee the boredom of her home for the thrills of America. Because everyone needs money for that, the tapes began to roll for her in 2021. One of her first scenes happened on July 5, 2021, with Joss Lescaf (Trade-Off) for the studio Blacked. Little Dragon sat confidently on the hood of the sportscar, dressed in a rally-themed sweater and some shorts, and gazed temptingly at the owner of the car. Her performance in the film was met with critical acclaim, thanks to her talent and beautiful, tall figure. Little Dragon went on to film plenty of movies after, with more than 20 carrying her name by December of 2022. She has had the opportunity to work with prestigious studios such as Reality Kings, Hentaied, Pulse Distribution, and Slayed.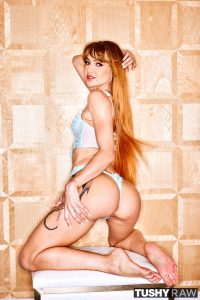 Those are just some of them, and many more await. Her memorable performances were accompanied a couple of times by notable actors such as Darrell Deeps and Jia Lissa (Jia (2021)), Mick Blue (Tight Squeeze (2022)), and Christian Clay (Velocity (2022)). She deserves a lot of credit for all of her hard work, effort, and long hours. And it is in our thoughts, and we can suppose that it is also in the thoughts of the audience, that her hard work will bear a remarkable career. Scenes like the one with Alberto Blanco in "Little Dragon's Happy Ending" (2023) abound. The audience can see Little Dragon in her best, slightly covered by a bathrobe. She is a guest of a hotel with peculiar services, one of which is a massage with a happy ending. Something that Little Dragons frequently indulges.
Thrill Seeker
It seems this dragon was always determined to experience as much and try as much as she could. Extreme sports, such as bungee jumping and skydiving, are a familiarity. It is almost left only to be amazed at her courage and determination. That is why, one day, she took it to the next level—she took it all to Silicon Valley.
Date posted: September 16, 2023