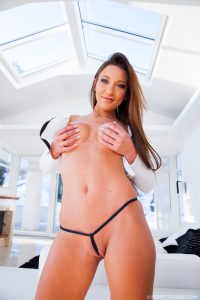 There is an air of foreign sexiness about Julie that is only brought out by seeing her perfectly round ass in a pair of latex tights. If you have never heard of Julie Skyhigh and love anal then boy you are in for a pleasant surprise with her. There are only two of her eighteen movies that do not involve an anal scene. Even the pros could learn from her since there are too many famous pornstars that are 'all-rounders.' One of her first movies released in 2014 by John Thompson was called Anna und Julie: Her mit dem Sperma that featured her first anal scene. One of the latest flicks that she has been in was called Anal Police Stories 1 that was released in 2016 by Sunset Media. There is a debate about rather or not she is still active in the industry but saying she is out would be a presumption.
The Mistress Of Anal
Now if we were to talk about her niche then it would only list all the movies that she has even been in. Instead, if you are looking to see her take it straight from her tight ass and into her waiting mouth, then you are in the market for All Filled Up 4, Legal Porno GIO102, Legal Porno SZ796, Anal Affairs 1, and Legal Porno GIO060. Maybe you are in the market to see cocks pumping in and out of both her naughty holes then you should give Legal Porno GIO144, Anna und Julie: Her mit dem Sperma, and Anal Sex Birthday Surprise.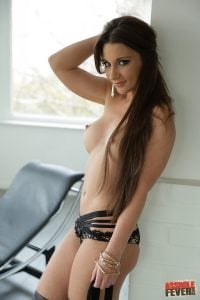 Her non-anal content is sparse and includes one lesbian video called Sapphic Erotica 4. The next one is one where you can see her shaved pussy finally get some solo attention called Belgian Slut Gets Freaky. It seems that her videos either end with a facial or swallowing with the occasional rare creampie in there for you. It appears that some of her favor distributor called legalporno.com, Pure Play Media, and Perfect Gonzo DVD.
Just As Much A Slut OffCamera
You might think that I am a bit cruel to Julia in the header, but when you admit to giving blowjobs at 13, then I am sure she been called worst. Other then blowjobs she wasn't sexually active, though she did lose her virginity at 16, until her time in porn. An interesting fact is that while she might get into some double penetration action off camera, she does not do any double anal penetration off camera. She describes it artfully as treating her work as a sport. She has pushed herself to do a triple anal penetration, but at some point, you have to consider how odd it must feel for a straight guy to share the same hole. She never did any works in the States nor had any plans to, but she does have something to say about Belgium. Apparently the stalkers there is an enormous problem to the point where Julie has been stalked over five times by different guys in a month.
Date posted: April 4, 2017