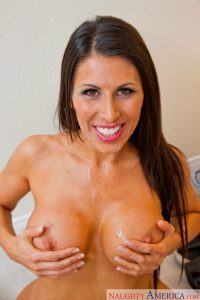 Makayla Cox is not only oozing confidence but everything that you come to love from Latinas including an ass that can stop wars. She has been very spastic as for who she works for, but there is no way that this face does not look familiar. She has produced a ton of content with Northstar Associates, Little Dragon Pictures, and Anarchy. In 2004, Makayla released Double Her Pleasure with the people at 3rd Degree. It was a nice little double penetration flick that Makayla scenes end with her taking a huge load to the face while trying to swallow as much of it as possible. Post-Party Indiscretion came out this year with the people at Brazzers Network. Do I think that we will see more of her? Yes, without a doubt, because she has already released five films and has been on a roll for the last two years.
In My Ass Or Me In Yours
Makayla is my favorite types of an actress by making the cornerstone of her career lesbian only and anal only content. If you are craving to see her getting girls off then you will jizz your pants: Hot Property, No Man's Land Latin Edition 6, Like Sisters, Pussy Foot'n 11, Interracial Anal Teens -n- Toys 4, Interracial Nice Juggz 1, Girl Attack 3, Lesbian Anal Trainers, and Are You Rough Enough 2.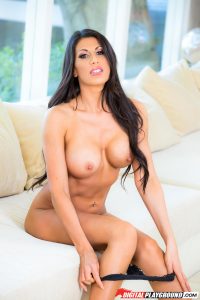 Now, for the bulk of her content, she has flicks where you can enjoy someone painting her chocolate walls white as seen in Straight To The Sphincter 1, Interracial Addiction 3, If It Ain't Black Take It Back 3, Big Butt Brotha Lovers 4, Full Anal Access 4, Double Her Pleasure, Cum to Drink of It, White Chicks Gettin' Black Balled 6, Go Ahead Ream Me, Cum in My Mouth I'll Spit It Back in Yours 2, Ass Splitting DPs, Jack's Anal Initiations 2, Wet Dreams Cum True 4, Welcome to the Valley 5, Legal At Last 1, Gagged And Gaped 1, Double Parked 11: Bumper Stickers, Wrong Kind Of Woman, Anal Expedition 5, and Fusxion Fantasies 2.
Loving What You Do
Once more we have a
Fleshbot review
, and as I read through it, I released that they always ask the same questions, so let's get the gripes out the way early. There is no point in the review where Makayla is wondered how she joined the industry. Everything else with the interview is the standard that you come to expect from Fleshbot. One different question that I saw was that they asked Makayla about her thoughts on Little Dragon Pictures. She has nothing but genuine love for the company that seems to be making her fetishes a reality. Read the interview for yourself as there is a ton of interesting information about this actress on Fleshbot site.
Date posted: July 31, 2017