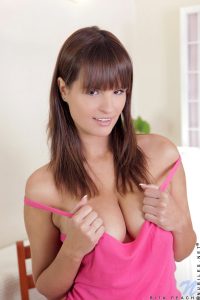 Some woman are teens, and then some are MILFs, but the fine line in between are Rita and mature woman. If you want to see someone who dances that fine line gracefully with her charming personality and curvaceous body, then Rita is once again your girl. It seems that she does not switch around companies a lot as Video Art Holland, Eromaxx Films, and Pulse Distribution. Drunk Sex Orgy: Pornstar Flirt was distributed by Eromaxx Films in the year 2010. One of her most recent movies that were the only one to come out last year was Teeny Tits 11 that was made by another one of her favorites by the guys at Video Art Holland. Do I think that we will see any more of this actress? No, and one look at her previous record would tell you why but let's look at something else. She has been in the industry for over five years with only forty films to her name meaning less than ten films a year. This is not accurate as last year she came out with one movie, one before that, and in 2014 she had one of her big years with 11 flicks. I still would love to see more of this actress nonetheless.
Watch Or Cover My Face
Sadly there is not enough known about her movies to put a decent amount in niches. The only two that she has any experience in are masturbation and facial only content. All of her masturbation the only experience includes the titles of My Sexy Kittens 63, ATK Natural Jugs 2, Teeny Sportstars 2, and Vizi Solitari 2. Next, all of her facial only content includes the works of Shooting Pornstars, Couples Seduce Couples 2, Public Pickups 3, My Hot Roommate 4, and Crazy Boobs: Tettone Insaziabili.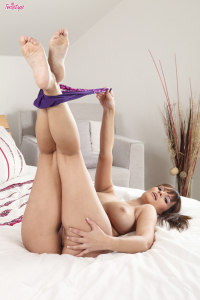 The rest of her content does not seem to have any discerning niche in them by IAFD standards which includes the following titles of Oily Sins, Bi Sex Buddies, Virgin Massages, Reflected On You, Oil Me Up, Dripping Wet, My Hot Roommate 1, Claire Castel: the Chambermaid, Mad Sex Party: Bar Sluts in Heat and Pussy Painters, Drunk Sex Orgy: Valentine's Day Vaginas, Junge Debutantinnen 46: Frisch gefickt, Drunk Sex Orgy: XXX Rip Fest, and Teenies Hot Talent 1.
Porn Interviews Doesn't Equal Bad
Well of the first things that you are going to notice about this video is that it is a porno flick which is not a downside. In fact, this interview is much better than most video interview for one sole reason, subtitles. This is one of the things that make this video shine. But as you go through the interview then it quickly becomes less about asking her questions and more about setting up that perfect casting couch porno. Check
this interview
out if you are interested in a porno that has a bit of information about your favorite pornstar but is warned that all the questions are sexual. Just from the top of my head, I know that she is asked how many guys she ever slept with at once and did she likes sex? These would not be terrible questions unless you asked her about how she got in the industry in the first place. Lastly, if you want to get to just the sex then skip to the 4:50 mark of the video.
Date posted: July 11, 2017