The MILF Nerd
Tanya Tate is one of the most beloved MILFs in the nerd porn community. Most of the times, when we talk about nerdy porn stars we talk about tens. From those teens, not many are real nerds. They just dress like ones. However, in the case of Tanya Tate we are talking about a real nerd, one that reads comic books and does cosplay for fun. If you want a babe that can be seen both in porn movies and in sexy cosplays at Comic Con, she is the one you are looking for. Tanya was born in 1979 and she's 37 years old. Although she's no longer in her young years, she still rocks an awesome body that could make any man horny. She mesmerizes her fans with her huge 34F boobies, which although fake, look incredibly real and are perfectly shaped. She is a British babe, born and raised in Liverpool, and in the past she used to go by the stage name Sue. Her stage name is classic for a Marvel fangirl. As you might know, most of the marvel characters have harmonious names which start with the same initials. Following the example of Stan Lee who gave names such as Susan Storm, Reed Richards, Bruce Banners or Peter Parker, this babe gave herself the name Tanya Tate, which is perfect for a busty super hero.
LA – London
Tanya debuted in her first adult film back in 2009 for a British porn production company. For a couple of years she only worked with UK based studios. However, she was soon spotted by an American agency and she began commuting between London and LA on a regular basis to shoot porn movies both in America and in the UK. During her 8 years in the business, Tanya Tate was featured in almost 300 adult productions, distributed by some of the most popular networks and sites, such as Zero Tolerance, Naugty America, Digital Sin, Penthouse, or 21Sextury. For all of her adult work, she was nominated for countless adult awards. She won many of them, including six titles of "MILF of the Year", which is one of the most impressive performance of this niche.
The Cosplay Queen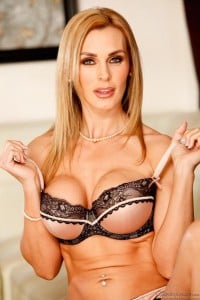 Besides porn, Tanya also strives in the cosplay industry. Although the cosplay and porn industry didn't collided yet, she is one of the reasons for which they eventually will. First of all, she is a very popular cosplayer, attending lots of events every year, and she has a strong fan base of her cosplay work. Second, she runs a site exclusively for cosplay, Justalottatanya.com, where her fans can buy merchandise and stay up to date with all of her comic convention appearances.Not only that she cosplays, she is an all-knowing nerd. Most of the time, the sexy babes cosplaying at Comic Con don't even know the name of the character they are impersonating. However, Tanya knows everything about the geek culture. In fact, she is a comic book journalist, if there is such a thing, because she writes for both HollywoodGoneGeek and FirstComicsNews. On top of that, she works on her own comics, designing characters and writing stories out of passion. If you want a MILF who can outnerd you, but also make you cum like crazy, Tanya Tate is the busty babe you're looking for.
Date posted: August 25, 2016