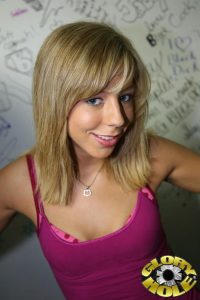 Chastity was born on August 10, 1987 in Seattle, Washington. She was attending a Catholic all-girls school. Later she switched to a public school. Chastity started her career in the adult entertainment industry after she met the porn starlet Ellie Idol.
In 2008, when Chastity was twenty-one years old, she started filming her X-rated adult scenes. She has a long and successful career of eight years and so far she has performed for companies like Pure Play Media and Red Light District. At the beginning Chastity was filming solely girl-girl scenes with Ellie Idol, but afterwards she decided to switch to film to boy-girl scenes.
In her resume there are all sorts of hardcore sex scenes, including threesome, group sex, teen sex, masturbation, uniform etc. Chastity has her navel pierced and a tattoo of a lotus on her lower hip. Chastity has a cat and has her own personal website. The porn star has active Twitter (her twits are protected) and an Instagram page where she has only one picture.
Date posted: February 1, 2017