Moscow's Potential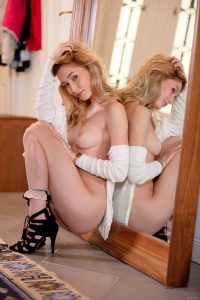 Another batch of goods comes from the immense state of Russia. And again, it is another beautiful and promiscuous young woman. The blonde Kelly Collins was born on August 15, 1999, in Moscow. She, like many Russians, yearned for the sun that shone on Europe and the United States. And what is an express ticket for that, you ask? Well, it is the adult industry. However, Kellie's ride was not as smooth as it should have been since Russia has been under sanctions from every part of the globe. This resulted, at least in her opinion, in some poor marketing for her and a lack of commodities to travel to Silicon Valley.
Kelly's Magic
Kelly opted to make a name for herself in the entertainment industry on May 3, 2022. The scene was filmed for the studio called Utrafilms, and Kelly was all alone in it. This Russian cutie had previous experience as an amateur maker, so when the tapes started rolling, there was zero nervousness on her face. Her elegant movement and natural beauty brought every taste of wild Russia to the audience. Her standout performance seemed like a catapult toward stardom, but the brick wall of sanctions seemed to slow her down, but only slow her down. By February 2022, Kelly had amassed an impressive filmography of over 40 films, showcasing her range and versatility as an actress.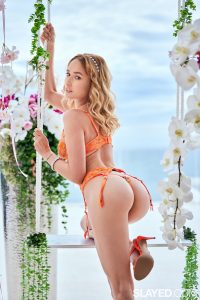 The number is even more impressive when her situation is explained. She has worked with esteemed studios such as Vixen, Blacked, Pulse Distribution, and others, establishing herself as one of the most sought-after actresses in the industry. Kelly has also partnered up with well-known actors such as Christian Clay (Anal Bliss 4 (2022)), Alberto Blanco (Gimme All (2022)), and Chris Diamond (New Obsession (2022)). Also, Vanessa Alessia (Touch Me, 2022) and Stefany Kyler (Waiting For You, 2022) are two of the many girls who have collaborated with her. With each scene, Kelly seemed better and proved her ability to woo the audience again, and again. It is little wonder she has a devoted fan base. She is slowly cementing her place as one of the most promising actresses, and her future in the entertainment industry looks nothing short of dazzling. Proof of these words is in the scene with Mia Nix and Aaron Rock (That One Summer (2022)). The scene centers around the background of Kellie's unbelievable mouth skills. She explains to her current boyfriend how she got the knowledge on vacation.
A Russian in Need
Kelly appears to have more than a few problems with her background. Some are wrapped around the current situation and the idea of an adult acting in her home country. In her own words: "I am terrified to communicate with my Russian speaking audience, don't feel accepted and comfortable."
Date posted: July 11, 2023