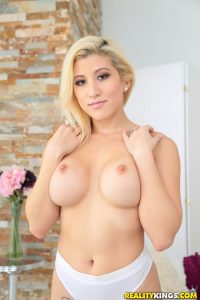 Cristi Ann was born on April 10, 1992 in Miami. As a real Mimi girl, she has stated that she loved growing up in that fast paced city with a mix of many cultures. Ann herself is a mix of a Cuban (from her father side) and Vietnamese genes (from her mother's side). As a child she was a quiet nerd who was always studying and was doing sports. At the age of seventeen she had sex for the first time; she was in a monogamous and loving relationship. Prior porn she worked as a go-go dancer, a cashier, a waitress and a stripper (out of curiosity only).
In 2015, when Cristi was twenty-three years old, she sent BangBros an email and asked them if she could visit them. When she went there they made an offer for her first scene and it all started from there. She shot her first three scenes for BangBros. For a while she did webcamming (3 months in order to learn about the industry and how it works). So far she has shot scenes in various genres including anal, hardcore, striptease, massage, big boobs and so on. The petite and curvy girl still does webcam even though she is a full time porn performer. She loves the rough sex in front of camera, because all her co-stars know how to do it pleasurable and appealing for the viewers.
Her family knows about her porn career and even though her parents are not completely fine with that, they are still in good relations. Cristi was always into older men and into inappropriate relationships, especially with her bosses. When comes to dating, she loves nerdy, quiet and respectful guys. Currently she resides in Miami.
She is a big fan of healthy life and fitness and exercises all the time. Cristi loves swimming, biking and running and when she is not outside, she loves cooking and spending time with her dog. Her breasts are enhanced with silicones (size 34D) and she has several tattoos including  a heart below her right hip; pair of lips below her left hip; snake wrapped around her left ring finger.
Date posted: April 11, 2017