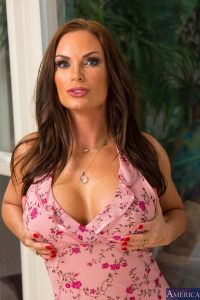 Diamond Foxxx was born on January 5, 1973 in Albany, Georgia in a military family. She has two siblings and her family moved very often because of her father's job. Most of her life Diamond lived in Virginia where she got married and had a child. Prior porn she was an E.M.T. volunteer for four years. Later Diamond divorced her first husband and joined the Navy where she spent some time, but was expelled because of a "sexual misconduct." Her next job was a stripper in Dallas where she met her second husband with whom she moved to Florida.
In 2004, when she was thirty-one years old, Diamond joined the adult entertainment industry in order to gain money for her career as a real estate agent. Her debut was for Naughty America series "My First Sex Teacher".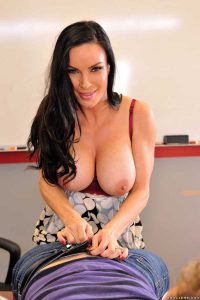 Within her porn career, Diamond has performed in 50 films and was mostly casted as a hot MILF. She had a short career because of her wild nature that was always leading her to problems with the law; she was arrested once and later decided to retire (2011). One year later she shot a gangbang scene for Brazzers and in 2013 she released a brand new double penetration video also for Brazzers. Diamond Foxxx has several AVN awards, including MILF/Cougar Performer of the Year and Best All-Girl Group Sex Scene.
In February 2005, Diamond was arrested in Ohio for prostitution. Police found her with other escorts and she was arrested for asking $950 for one hour of sex. However, she got released with a small fine. The same year Diamond was diagnosed with cervical cancer and had a hysterectomy.
In 2011 she released a press release stating that if Pittsburgh Steelers win the Superbowl, "Diamond Foxx will give a blowjob (or perform oral sex on women too) to any of her Twitter followers who show up for her victory celebration." Diamond has her navel, lip, clit and ears pierced; besides her breasts silicones, she also has butt silicone implants.
Date posted: March 16, 2017