Life Before Porn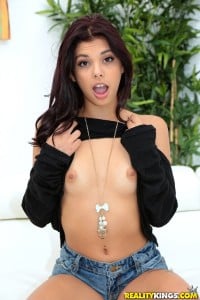 This young and smoking hot Latina was born on February 18, 1997 in Rio de Janeiro, Brazil. She was a friendly girl who talked to everyone and was nice to everyone. Gina was a hippie girl who loved deep conversations about life, earth and the universe. She had plenty of friends, but was most comfortable to hang out with the boys. She believes that her friendships with boys led towards her becoming a real pervert. During her high school days she dated a wrestler who was a friend of her brother. She lost her virginity to him and had her first oral sex with him.As a child she used to watch porn, mostly anime (because the characters were cartoons and her being just a kid made her like that genre a lot). However, later she had a very rich sexual life so she didn't care to watch porn that often.
Porn Career
Gina started her porn career in 2015 and so far she has been casted in plenty of scenes. Being a petite and young looking girl, she is often casted in teen scenes, but also threesomes, hardcore, bondage, group sex and threesomes. She is a Latina, so very often she is casted to play one.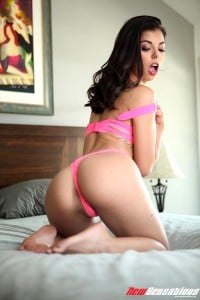 Gina has stated many times that she loves her job and her favorite scenes are when the man is dominant. Gina enjoys filming rough scenes with hair pulling, slapping, choking and sloppy blow jobs. She is not totally submissive, and loves to dominant her co-stars, but also she enjoys when they dominate her. Her favorite scenes to film are double penetration, incest and manhandled.
Personal Life
Gina is one of the newcomers who have a big fan base and she enjoys responding to her fans on Twitter. She states that her fans are her biggest support and that without them she wouldn't be where she is now in the industry.She enjoys exploring her sexuality through porn and advises all newcomers to relax and accept that their first scenes won't be their best and that it is OK to be nervous. One day she hopes to get nominated or sign for Evil Angel at AVN's AEE. Gina sees herself in the porn industry for a long time. When she doesn't shoot she loves painting and making sculptures. She also enjoys fishing, swimming and surfing as well as long walks by herself so she can have time to think. Gina has several tattoos on her body: a large design covering her upper left leg; one on her upper back left shoulder; wavey lines on her right side and text across her upper right leg.
Might Interest You:
Date posted: December 12, 2016