This way or another, modeling it is
Kimberly Moss was born on August 29, 1995. Her birth place isn't clear, as well as much other info from her life before her porn career. Her first love was fashion, judging by the way she likes to dress, her Chanel tattoo and the fact that her name was derived from the name of the top model Kate Moss. She was a model for some of the most famous clothing brands in USA at first, but what stopped Kimberly Moss from conquering the catwalks is her height, so she banished the fashion world and entered the adult one, only to excel in it.
Babe got serious
This young lady is only for a year in this business but surely didn't waste her time. She's not only a pretty petite babe. She is hugely talented rising star. Even though she hasn't collected a large number of movies under her belt yet, she already worked with some of the great names in adult industry, like Blacked, Vixen and Mofos.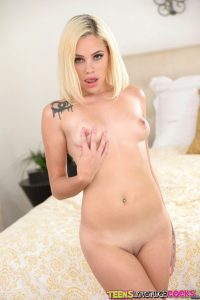 She is showing up in lots of categories like: teen, hardcore, blowjobs and POV. When she first tried shooting porn, she liked it so much that she skipped the usual intro most of other pornstars have, like nude modelling, webcams, single and girl to girl actions.
A gentle storm
Even though she looks petite and gentle, Kimberly Moss' looks may trick you only for a second. She's a wild soul ready to put up with any adventure an adult world may put ahead of her. Besides acting, she is managing all her bookings by herself, runs her own video network and designs apparel favorited by celebrities. So don't ever even think of underestimating this girl. If she is so brilliant at 21, we can hardly wait to see what she can do in years to come. Plus, underneath this angel face is tattooed and pierced fire that may look small at first sight, but if you play any of her videos, you'll realize that she is able to put the male world on fire in under 10 seconds. You go, girl!
Date posted: September 16, 2017