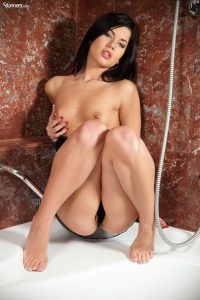 Rihanna Samuel was born on February 16, 1991, in  Brno, Czech Republic. The blonde Czech babe with a very catchy name started her career just recently. Considering the fact that she comes from the country where a lot of porn stars were born (especially in the European adult entertainment industry) Rihanna used all her beauty and talent to build a successful career of eight years.
Rihanna Samuel joined the adult entertainment industry in 2009 when she was eighteen years old. The grey-eyed beauty with an incredibly fit body and amazing talent has been performing under several aliases including Rihanna Jamuel, Rihanna Samuels, Rihanna Jamvel, Rihanna Vamuel and under her real name Sandra Berankova.
However, fans recognize her by her performances much more than her aliases. She has been actively filming in genres such as softcore, public, fetish, toys, masturbation, small tits, orgy, feet, and lesbian. Her most popular films are Russian Institute Gang Bang, Rocco's Bitch Party 2 and Private Specials 31: Bi Sexual Office.
Date posted: August 19, 2017