Early life
Alice Lighthouse was a super popular girl in her school, but as time was passing by and she was growing older she stopped being friends with her friends and dedicated herself to her Master who was forty years her senior. Before him she dated boys from well-known private schools in Miami. She wasn't a porn fan during her adolescence and even though she's in now in the industry she barely knows the names of the actors and actresses. If she was ever watching porn it was only Submissive/Dominant or gangbang genre.
Porn career
Alice's agent is Shy Love and she says that Shy will do anything for her to make her feel comfortable on set, argue with producers (even if that means that she won't get her pay check in the end of the day) solely to make Alice's working environment pleasant and nice. She hopes to film a full scene with Aaron Wilcox (who by the way is her favorite co-star because he was incredible at oral sex) and start doing more kink-related movies and scenes with multiple guys. Alice does not have a favorite position, but she says she enjoys spoon and missionary the most. In the Airerose Movie she first tried Sybian ride (something that she wanted to try for years) and she says that it was even better than it looked – the spinning and the vibrations were amazing, she says. Among the many productions she filmed for are
Hustler, New Sensations, Zero Tolerance, Reality Kings
and 
Wicked Pictures
.
Personal life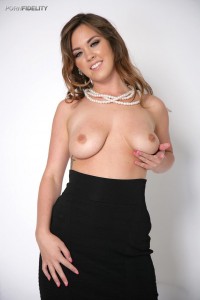 Lighthouse is one of those kinky girls who were kinky even before camera. She was in a slave-master relationship for two years and has a slave tattoo. Her main fetishes are exhibitionism, bondage, suspension, and electric play. In her pass time she likes scuba diving, snowboarding, archery, hiking with her dogs, skydiving and playing piano. She says she will do anything once.Alice is sweet and smart and is very open to meeting her fans. She says that they can find her at exxxotica expos and that she loves these people to death and she thanks them for watching her films. She is totally new in the industry with about thirty-forty scenes so far and is looking forward to do more. She says that she enjoys her time in the industry and that there she met a lot of intelligent and nice people. Her idol is her agent Shy Love who, as Alice says is an incredible teacher who will do anything to boost her career in the right direction. Alice has dogs and is constantly working so has no time to go out a lot. If given a chance she would gladly sleep with Jennifer Aniston and Channing Tatum. As an exhibitionist she fully enjoys the fact that people are watching her. Her best advice when comes to sex life is always add something new, don't ask your partner what they want because it kills spontaneity.
Date posted: July 16, 2016