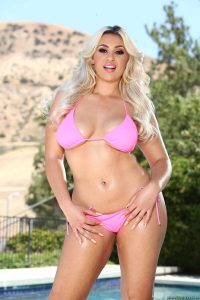 Assh Lee is an example of how I want to see every new pornstar that enter the industry do. There just need to be more pornstar actresses that know what niche they are going to fill for this industry. Every one of the erotic movies tells what videos that you can expect to see from Assh Lee in the future such as Big Butt Oil Orgy # 3, Latin Step Daughters, Curvy Girls #8, Bomb Ass White Booty #20, Booty Movie #4, Sexual Athletics, and Anal Students #3. If you think that for a second any of the attention that her ass gets is undeserved, then you must have no idea about the drought of PAWGs that this industry is missing and/or you have never seen Assh Lee's ass. There is a reason why it is one of the first few things that people talk about during her interview.
PAWG and Anal Lovin'
There is one bit of controversy that is already around this actress despite the fact that she has been in the industry since 2013. She started recently making movies this year. The bit of controversy that might have gotten her infamous is the fact that she is a mixture of Latina and Caucasian. She has the sexy accent and ass for her Spanish side, but the whole appearance of a model level Caucasian woman.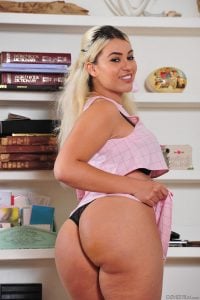 This question that was asked during the interview to which she simply states that she does not mind hopping between races since it only gives her more niches to fill. You can already see that she has filled the Latina/Big Ass/Anal niche between any Latino/Caucasian that I have seen.
Off Camera And Fucks Like It
Assh Lee is a very sexual person who seems to rely on one her magnificent ass of hers to make money. She keeps her body shape through a combination of anal sex and dancing. There is this air of self-confidence about her as well as Assh takes no shame in talking about what she likes sexually in detail. One advice she wants to give everyone is one that she says makes her scenes better than anyone else and she said to fuck like there is no one watching. Seeing the way that she takes big black cocks in her ass and groans when she gets off shows that what you see on camera is what you are going to get off camera as well.
Date posted: March 15, 2017