Early Life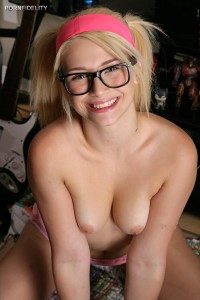 One of the freshest and newest names in the porn industry, Aubrey Gold was born on March 12, 1997 in Dothan, Alabama where she grew up. She never got along with her family and moved out of home early. Also she was never good at school and got expelled very often so in the end she decided to drop out. She lost her virginity when she was fourteen years old with her boyfriend with whom she was together in the next two years.
Porn Career
Her stage name is a combination of her mother's stripper name, Aubrey, (she liked it and decided to take it) and her last name is Gold because she loves gold. Her first scene went out naturally although Aubrey was nervous. If she has to pick one pose that gives her the best feeling, Aubrey says it would be doggy and also she truly gets turned on by weird, freaky things such as having sex with a guy who wears a mask on his face. Today Aubrey is one year in the porn industry and has some excellently done scenes, and her upcoming film After Porn Ends 2 is scheduled for 2017.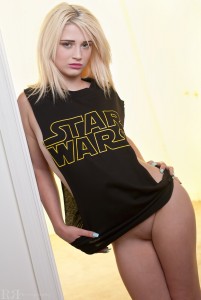 It is a common fact that most porn actresses can't orgasm during filming because they have to open up for the camera, but that's not the case with Aubrey, she says she doesn't have a problem with that. She enjoys when a guy ejaculates on her face and when comes to masturbation she enjoys the pleasure of her Hitachi every day.
Personal Life
Aubrey is single but when she is looking for a guy she always goes for the older guys.  Her fantasy is to have sex with a man who wears mask on his face, and the kinkiest thing she has done so far was the threesome she had with two other guys. When she doesn't film she likes going at bars, and what most fans might find it crazy is that she loves hunting and shooting guns. She also goes fishing and shopping. Her favorite shows are the ones that are shown on The History Channel and she also enjoys watching scary movies.
Date posted: September 6, 2016