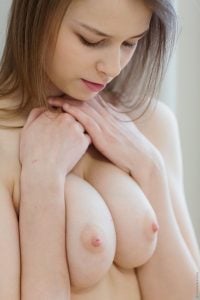 There is something about this Beata that is cute from her tiny, tight body to the fact that every guy she is with want to leave her asshole gaping. Fans of seeing small girls get their asshole stretch out might have heard of this little gem. She has worked with such companies as Video Art Holland, Kick Ass Pictures, and Woodman Entertainment. Her first film, Sex Carnage 2, was made in 2008 by the people down at Woodman Entertainment. It was a small time anal flick where you could see Beata along with Crystal Crown, Jituska, and Moana Mendez takes it up the ass as well. Last year she came out with the movie Fucked Friends 2 that can be found around Sunset Media. Do I think that we will see more of her? Well, I have to go on her track record and simply say no. She only released one movie last year, the one above, and in 2015 she only released five flicks. It was only in 2014-12 that she kicked off in her career, but afterward, her uploads have been bare. I hope that we will see more of her as the year goes on.
Bi-girls Just Love Everyone
There are three niches that Beata fulfills well for her fans with lesbian only, facial, and anal only videos. Out of all of her niches, no one will argue that Beata has the most girl on girl experience with such flicks as Sweethearts Anal 6, Home Alone Teens 8, Sweet Morning After, Girl In Pantyhose Feeldoe-Fucks A Cute Bottom, Pantyhose Workout And Feeldoe Fucking, Pantyhose, Puffy Pussies And A Feeldoe Fuck, Tutu-wearing Bottom Plowed With A Feeldoe, Smooth and Silky 3, and Seventeen Collected Lesbian 1.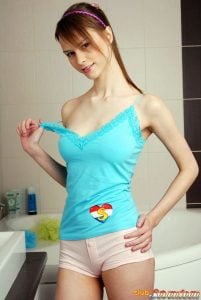 Her spunk covered experience is thread bare comparatively with films as Bendicion Sexual, Rocco's Psycho Teens 5, Deep Drilling, and Teenage Fantasies 4. She might have just a bit more experience taking it up the ass as seen with films such as Fucked Friends 2, Woodman Casting X 108, Sex Carnage 3, Sex Carnage 2, Amateur Anal Attempts 23, Put It in Her Ass 13, and Sweethearts Anal 7: Russian Teens.
Small Budget Equals Bad
Well, once again as with many low budget
video interviews
it suffers from all of the same problems that we frequent see but times ten. The audio quality looks as if it was done off of a phone. Compare with the fact that you cannot even hear Beata only rams this point home but what does it for me is how uncomfortable that she is. I would like to tell anyone who is listening and thinking about interviewing a pornstar. Please, rewatch the video. If anyone rewatches any of these interviews, then they wouldn't have uploaded it in the first place, but instead, this is the only interview that we are stuck with. It is one of those porn interviews so at least Beata sexy body saves the video by a few degrees but I still cannot recommend it.
Date posted: July 7, 2017