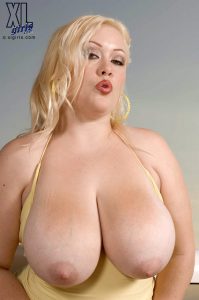 Bunny De La Cruz is a big blonde porn star with boobs for ages. She used to go by the name Vixen 34JJ, because she is a mega vixen, with voluptuous curves and a decently sized belly that makes her look even sexy. This hot babe born on 30 June 1984 in Long Beach, California. She is a natural blonde with green eyes, and she is a short gal, 5'2, which enables her to look like a BBW without weighting too much. At 165 lbs she is perfect for BBW porn, as she has generous curves, but it's light enough to be maneuvered with ease in front of the camera. What's funny about her is that she tattooed the Skittles slogan and a rainbow above her clitoris. The men who go down on her will read "Taste the rainbow!" before they start eating her out. She has a couple of other tattoos and sometimes you can see her with a piercing in her lower lip and sometimes one in her nose. She also wears glasses in real life, and now she cut her hair quite short. The alias she used to go by, Vixen 34JJ is because her natural beasts measure 34JJ. Check out the rest of Bunny De La Cruz's bio to learn more about her porn career and personal life.
Big Chicks Love Black Dick
I don't know if it's because of those extra inches that can pass the fat barrier or if it's because of something else, but it's clear that white fat babes from the US are really into black guys with big cocks. Same for Bunny De La Cruz. If she's not in a lesbian or solo masturbation scene, you will probably see her in an interracial porn scene. She shoot more movies with black cocks than she shoot with white ones, and she is pretty good at taking huge dicks in her pussy and ass.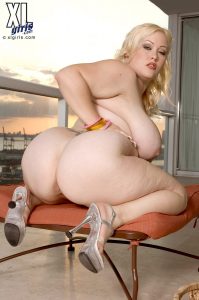 You can see some of her best features on Evasive Angels, Plumper Nation and Adam&Eve. She started out in prn back in 2007 and she stopped shooting until 2009, only to come back fresh and ready for action in 2015. During her 3 years career, she shoot some 50 movies.
Real Life Bisexual
This hot babe is all about trying everything in matter of sex. She is a grounded woman, and a responsible porn star, but she is also an open minded sexual being. Sometimes she likes pussy more than she likes cock, but she needs a stiff one from time to time to make her feel like a woman. She's pretty monogamous, keeping things simple and drama free with one partner at the time. She gets into relationships with both men and women, but while she is an active porn star, she likes to keep relationships open, just to be fair for her partners, as she fucks various people in front of the camera. I sincerely hope she won't quit porn anytime soon, especially now that she is almost a MILF. I'm saying that because she has the perfect psychological profile for a MILF or Mature porn star. She's not full of herself, she's not a porn diva, and she is up for almost anything in front of the camera.
Date posted: February 15, 2017