Life Before Porn
Darcy was born on December 10, 1992 in Sacramento, California, but grew up in an area called Folsom, that is close to Lake Tahoe. She grew up with both her parents (who are still together) and her younger sister. Darcy attended private and public school, but didn't really like that period of her life, because she was getting all the attention but in the wrong way. She always had large breasts and guys of course liked her, but didn't know how to act around her e and were always acting like idiots, while the girls were mean and jealous towards her. Darcie wasn't a promiscuous girl. She has been with two guys in her life; she had definitely been with more girls and now that she is in porn, that number of girls is quite big.
Porn Career
Prior her porn career, Darcie worked (and still works) as a DJ. Her fiancé had managed a lot of music people and also worked with the Deftones. He asked her if she wanted to become a DJ, and after a good thought, she bought the equipment and started doing it. It turned out really good and she enjoyed her job. DJ-ing is not connected to porn, but Darcie always liked to do sexy modeling. As a girl with large and natural breasts she wanted to be a Victoria's Secret model, but she was too short for that. She met Holly Randal through a mutual friend and the idea of entering the industry intrigued her even more. She told Randal that she is willing to film a girl/girl scene, then Randal checked her into it and that is how Darcie ended up doing her first scene with
Tasha Reign
.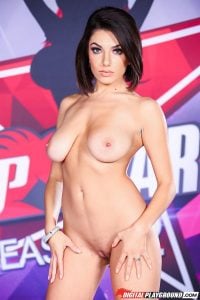 She is barely a year in the industry and still sticks to filming girl/girl or solo scenes. A lot of people ask her whether she would switch to filming with male co-stars but she simply doesn't know – it isn't a "no" and it isn't a "yes", she says. So far she has collaborated with Twisty's scenes, Reality Kings, Urban Lesbians and her fans are about to see a lot more from her because she works devotedly to her porn career.
Personal Life
Darcie has a fiancé and loves working on her music. She loves hiking and yoga and loves to travel and explore new places. She considers herself to be an adventurous person. In the future she sees herself as a DJ and that is her primary job. She did it before porn, and plans to do it after her porn career is over. Her favorite food is sushi. She is a close friend of
August Ames
. When comes to turn-ons, Darcie loves neck kisses and masturbates a lot.
Interview with Darcie Dolce
LORD:
Hello Darcie, would you tell us about your life before porn ?
DARCIE: I was a part time model and a Dj
LORD: 
How and when you started to think about becoming a porn actress?
DARCIE: I was already doing nude modeling and thought why not take it one step further
LORD: 

What is the origin of your pornstar name?

 
DARCIE: I wanted and unusual and catchy name with a letter in the beginning of the alphabet.
LORD:
What was your first scene and how the experience was?
DARCIE: It was a webcam show for Penthouse. It went great.
LORD: 
What's your favorite porn scene you made?
DARCIE: I like every one of my scenes , but I've yet to shoot my favorite.
LORD: 
What do you like sexually?
DARCIE: Orgasmic sex
LORD: 
What do you like to do in your free time ? 
DARCIE: Dj, workout, shop, drink wine, and have sex
LORD: 
How do you see Darcie Dolce's future in porn business?
DARCIE: Having a successful production company, and still actively shooting.
LORD:
Finally, tell us everything there is to know about you.
DARCIE: I love sushi. My favorite series is Two and a Half Men. I love the movie Friday. I love house music and rock music. I've always wanted to travel to Thailand and Tahiti.
Might Interest You:
Date posted: November 4, 2016