Early life
Hope was born Fort Lauderdale, Florida on October 10, 1993 and before she started her career in the adult entertainment industry, she worked at a gas station and at Tim Horton's (something like a doughnut shop and bakery put together).
Porn Career
Half of her family already knows that she is in the industry although she is a porn newbie with only one year of filming experience behind her. Her mother and sister found out through Snap Chat where she posted a Club-Dom shoot. She is up for BBG/Group/Anal/and IR and although she is in porn, these are completely her things in her private life too. The first scene she filmed was pretty nerve-racking but she survived and is ready for more. This petite blonde is relatively new she still hasn't filmed one too many scenes, but she is totally looking forward for more.Hope's favorite position is her on top, whether it is cowgirl or reversed cowgirl, because she likes the control she has this way. When comes to filming the actual scenes, Hope is always ready and wet for her co-stars. She admits that she was super wet for Grandpa (a co-star who is in his 70s) when they were filming a scene for "Kissing Cousins".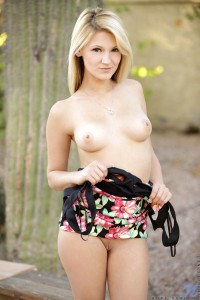 Hope intends to make a name for herself so she sees herself working in the industry for a long time. The thing she loves about this business (besides the sex) is the fact that she can have different working hours than the regular 9-5 and that she can make more money than what a regular job can pay you for a couple of weeks. Hope is big on filming incest type of scenes for Desperate Pleasures and there are some really well done Daddy's girl scenes.
Personal life
Her idea of the ideal date is staying at home, watch some porn and then have sex. She jokes that she didn't put the "ho" in Hope for no reason. If she ever gets a chance to hook up with any celebrities she would gladly do Megan Fox, and The Rock and Stone Cold Steve Austin at the same time.Now that she is a rising porn actress, more and more people recognize her and treat her differently, but in a good way. Most of the time Hope doesn't care if anyone says anything bad about what she does; her only interest is to achieve even bigger success in the industry and grow a bigger fan base.
Date posted: July 23, 2016