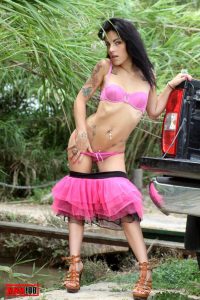 You have probably heard that French women are super-hot. In this light, meet Jordanne Kali, a hot French adult film actor, with a perfect body. She is a bi-sexual babe spotting a medium-sized ass and the perkiest boobs that could fit in your mouth. She has performed in many captivating scenes since 2009 and has won over the hearts of many, not only by her striking beauty but also for her talent and tattoos.When she is not on set shoving monster dicks in her holes or stuffing toys in her fellow model's holes, she likes to relax by listening to music and have a good time. She is also into art, and most of the tattoos on her body are custom designs she has done. She also loves hanging out with her friends on the beach in the south of France, but one thing can lead to the other, and they can film a naughty scene for fun.
Pre-eminent Porn Career
I doubt that there could be enough time to watch all the porn, but you do not have to worry. Jordanne Killa has some of the hottest scenes in the world. Better yet, she fucks both guys and girls so that you can expect nothing but the best action. She has worked with a variety of names in the industry, but she is a darling of the big porn houses, and occasionally, she will do a scene for the small porn produce as long as she looks like the star she is on their videos.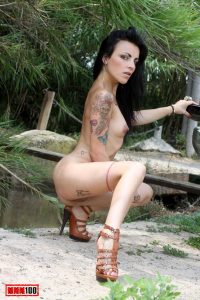 She has had the opportunity to work with MMM100, Alkrys, First Anal Quest, JTC, French Bukkake, IFG, Many Vids, Zas.xxx, Sauciccon Prod, Les Francaises, Colmax, HPG, Red Devil X, Magma, Video Marc Dorcel, Evil Angel, Pussy Fury, Sweet Productions, Leche 69, Private, Actrices Del Porno, Robin Reid, Armature GFs, Saboom, and sexopremium.com. To date, she has filmed over 30 videos incorporating hardcore sex scenes, sensual and passionate lesbian scenes, and she can take monster dicks or toys to her ass without much effort. Jordane Kali's videos have been viewed over 14.6 million times on the free porn streaming site XVIDEOS, with over 647,000 profile hits.
Rising to the Global Stage
In the current age, it does not make much sense to be just a local star, and I can confidently acclaim that Jordanne Kali is on a trajectory to the world stage. She wears her hair in different colors, but she looks best with blonde hair, it brings out her eyes and face. However, it is not only her beauty, that will get her to the top but also the talent she has exhibited she will earn a place when the legends meet in porno heaven.
Date posted: January 1, 2018