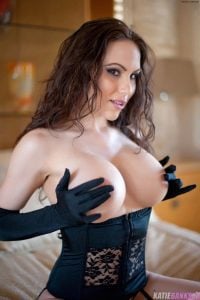 Katie Banks has been in the world of porn for over six years, and if you are not into webcam videos, then it is entirely possible that you did not hear about her until 2016. Last year she released and directed her first movie, Katie Banks, with the help of TC Davidson. The film includes several scenes with one of her favorites being the baby oil scene; Sexy Blonde Katie Banks Rubs Her Tits Down With Baby Oil. She plans on releasing several new DVDs with the help of BellaPass and Adult DVD Empire. If you are looking for any of the old works, that Katie admits to not liking, then they can all be found on her website for a small price tag. Other movies that she was a part of last year was: Fuck This, Bryci, The Perverted Thoughts Of Katie Banks, Bratty Little Plaything and Little Shy Slut.
A Tale of Exploration 
Where other might work themselves to the bone for a chance of fame, Katie aims just to have fun. She gets more out of the experience than the money or attention. Katie comes from a background where she was sexually repressed so just to get to explore that exhibitionism, and taboo side is the most rewarding aspect of being a pornstar to her.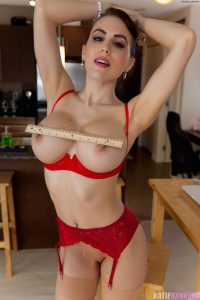 She does not only explore this part of her, but after her appearance at 2017 AVN, you might start seeing the name Katie Banks show up more and more in the world of porn.
Just Your Average Girl... with a Dirty Secret
Katie Banks is an open book with a blog that she has been updating daily for nearly two years now. She lives a normal life where she is happily married and has two dogs. The only thing that makes her difference is how Katie choose to earn her money. When she is not working on new videos or movies with BellaPass, she sells custom videos, Skype shows and is even willing to sell her personal items starting at sixty dollars. Thankfully she does not charge to ask questions and prides herself on the relationship that she has with her fans.
Date posted: March 9, 2017