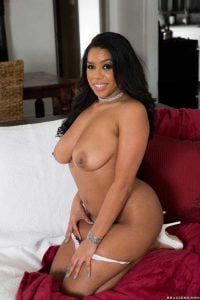 Katt Garcia was born in New Jersey, on April 2, 1995. As a teenager she was engaged in sports. By
the time she started going to parties and hanging out with the friends, she considered herself to be very shy. The first porn she saw awakened a feeling of euphoria and excitement so it was probably what lead her into the porn industry. At age 19 she stepped onto the porn scene and for now she has no intention of leaving, because she sees it all as pure fun and pleasure, even though she would like to work in medicine field after her porn career. Her family and friends know about her career in the porn world, which makes it easier for her because she doesn't like to hide anything. And that's obvious in her movies -
this girls is showing everything she knows with pure pleasure and passionately enjoys in raw sex scenes.
Doesn't Like Clothes...
She always secretly wanted to be a model but without clothes because she does not like to wear it. She succeeded in that in August 2014, when she recorded the first scene in Miami for Reality Kings. She has recorded for BangBros, Mofos, Brazzers and many others. And even if she's still briefly on the scene, she has ambitions to do everything that her fans would want to see. She personally loves anal sex the most, and she also enjoys it in private life. She says pussy-eating leads her to madness.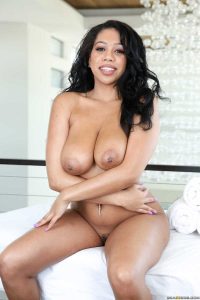 So far, she has been recording with some fine names like Bradly King, Clint Northwood, Derrick Ferrari, Evan Stone... She likes to be well-fucked and when her partner cums all over her. There are many guys and girls with whom she would like to record
as she considers there's something to learn from everyone.
In each of her scenes, her tits and ass are dominant regardless of whether it is BJ, anal or facial scene. If you are a fan of ebony girls, Katt may be one of many on the adult scene, but she will surely give you something special.
Naughty Hollywood Dreams
As each of us has the desire to fuck some celebrity, Katt also has her favorites - Vin Diesel, Tyrese Gibson, Angelina Jolie, Megan Fox... Considering she's now living in Los Angeles maybe it may all happen sometimes (at least we can dream!) Like all popular porn actresses, she also has official accounts on social networks where she is actively in touch with her fans.
Date posted: June 3, 2018