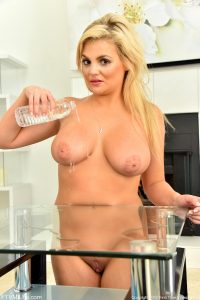 Katy Jayne is a unknown Brit who not only has the sexiness but the body to match with her legendary, natural G cups. Chances are that you never heard of her because amazingly she has never worked a company, beside Dogfart, more than twice. Big Natural Tits Creampies was an unknown gem that she made last year with the guys down at Lethal Hardcore. This year she has came out with I Love My Sister's Big Tits 7 by the guys at Digital Sin. Do I think we are going to see more of her this year? Well seeing how she has only came out with ten films in today then I have to say no. It has been two years so that means less than one video per two months which doesn't scream committed to me in the slightest.
Barely Enough Flicks
There is no point in trying to put her works into niches because there is barely enough titles to make up this paragraph. All of her works that she has down in her career has been: Big Natural Tits Creampies, Watch What Your Mommy Does, Perfectly Natural 12, Axel Braun's Busted, MILF Massage, I Love My Sister's Big Tits 7, Blacks on Blondes: Katy Jane, Mandingo: The King of Interracial 5, Twisted Passions 20, and Sibling Study and Suck.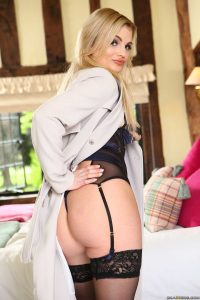 I just want to say this here because IAFD is not always reliable. One look at her page and it is clear that they know nothing about this actress. There did not even have her birthday on the site so it is entirely possible that all of her works were not posted on the site at the time.
Road To The Biggest UK Pornstar
If you are a fan of this section of the biography the you might know my relationship with Fleshbot already. Fleshbot produce a ton of great interviews about pornstars in the industry except that it always forget to ask about how she joined the industry. Typically they ask the same question with one that changed to throw a curveball at the pornstar. This curveball question was Katy being asked if there is anything that she wants to achieve in porn. She wants to be in the industry for ten years and be the biggest UK pornstar out there! All I have to say that if you want to get to that point then you will need to show more commitment. I can wholeheartedly recommend this interview so check it out and keep Katy in the back of your mind.
Date posted: July 31, 2017