The ex hotness
Lupe Fuentes, Lupe Fuentes or Little Lupe are all the stage names for Zuleidy Piedrahita, born in Santiago de Cali, in Colombia. She was born back in January 27, 1987 and is known for her roles of singer and also ex porn star. She is a talented woman that has everything to stay in the media world for years to come yet. She is beautiful and will certainly impress even the most exigent when it comes to porn. Although she is no longer making any porn content it is still possible to watch her exclusive porn videos that are way too sexy to forget.
Life and Porn Career
Back in 2006 she started out in the porn world together with her husband Pablo Lopiedra, who happened to be a porn movie director at the time. Although she started out on her home land, in 2008 she got divorced and then moved to the USA, where she signed a contract with Teravision.
In 2011 her ex husband was charged for children abuse back in Colombia. She was accused by him of seducing young girls to record sexual movies. Although we do not really know whether it was true or not, she disappeared from the social world from 1008 and 2012. After such period of time (that many say she was deported from the USA and served in Colombia for such crime) she came back with her band, singing. Ever since that time she did not do anything related to porn. She is now married to American Evan Seinfield and currently lives in the USA. She has also been involved in other cases with the justice, when one of her fans was charged for carrying child porn, although it was no child, it was her. She later managed to prove that she was the girl in the pictures and that she was older than 18 at the time it was recorded.
Awards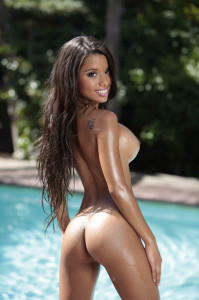 Beautiful from beginning to end. This lady is more than ready to please even the most exigent with her legacy. Her beautiful movies are more than ready to impress and although she has given up the porn career her videos are still out there to please and impress.
Won
2010: F.A.M.E. Award: Favorite New Starlet
2010: XFANZ Award: Latina Pornstar of the Year
Nominee for
2006: FICEB Award in the category Best New Spanish Actress – Posesió3
2009: Hot d'Or in the category  Best European Actress – 100% Zuleidy4
2010: AVN Award for: Best New Web Starlet5
2010: NightMoves for the Best New Starlet6
2011: XBIZ in the category Female Performer of the Year7
2011: XRCO Cream Dream
Worth Ever Watching?
Although Lupe is no longer making any porn videos, she is still a very interesting option to watch. She is beautiful, talented and although very fragile looking, she can certainly pack a cock (or even more cocks if needed). She loved what she did and because of some justice issues she probably retired from a career. She was young and had everything to continue on the business. Right now she is a singer, however she had everything to be a wonderful porn star for years on end. She is beautiful, sexy and does not have the best voices, however her body says otherwise. If you would like to spend fun hours in front of the computer then enjoy!
Date posted: May 28, 2014