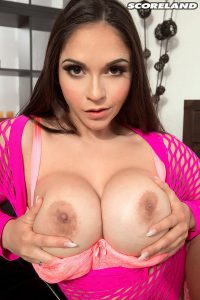 Marta La Croft is a tall drink of Latina for most guys from her triple Ds to an ass that just begs to be squeezed. Marta is exactly what you get when your fuse the body of a Spanish woman with the fair of an American which makes her tattooed teen persona come together well. Let's be honest for a second; you never heard of this woman before today unless you are a fan of content made by Evil Angel, Mofos, and Airerose Entertainment. It does not help that she has only released 28 movies over her entire career. Fuck Yeeaaah was her first film with the support of Evil Angel they launched the movie in 2013. This year her most recent movie, Alone Time 4, was by Airerose Entertainment. Can we expect more out her? There is no doubt that this will be the year that Marta La Croft becomes a household name.
The Head Doctor
Surprisingly she has a tremendous amount of experience getting Tier-A grade head as you can plainly see in the movies Fuck Yeeaaah, Take the Titty Ride, Sexy Tourist Fucks in the Bathroom, Thick and Ready, Mama Marta Mamada, Marta La Croft, Titty Creampies 9, Nacho's Dangerous Curves, and Sex Sport. The rest of her content there is very little information as with such works as Strassenflirts 76, Stable Whores, Big Tit Latina Blows Client, Hard Day at the Office with Marta, Corruttore, Stunning Butts 5, Mouth Service 2 and Xtra 16.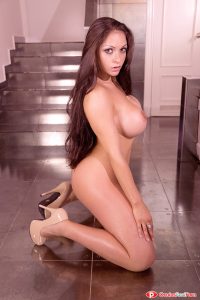 Though it is only my opinion, it seems that a good chunk of her material loves to focus on the legendary mouth work she can put down but on her phat round ass as well. If you love seeing her ass, then there is no better place then her twitter to see it every day.
Attention Loving Slut, Literally
There has yet to be an
interview
at the Adult DVD Talk forums that I have come to dislike. Granted this one did not get the editing that you would expect, but it is also not made by the legend that is Captain Jack, but Keith does an excellent job. Immediately her ask Marta about why she is in the adult film. This tells you a lot about this actress as it seems that Marta was doing it for a new workout and the attention. Even when she was asked about her favorite thing about porn, then she states bluntly that she just loves the attention. It seems that she also has some ambitions to work as a director or more behind the scenes, so let us keep our eyes out for that. If you found this information interesting, then all of the saucy information is there as well.
Date posted: July 5, 2017