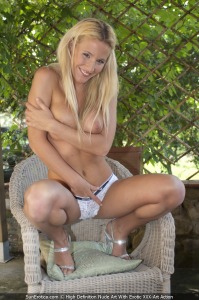 This
Italian porn star
was born in La Spezia on December 22
nd
1983. Her
original name is Christina Ricci
, but she decided to take her stage name because of her resemblance to the T.V personality Michelle Hunziker.
Her very first film was shot in 2005
with her then boyfriend and it was an amateur shot. Afterwards her career developed in the right direction and she filmed three porn films in the same year. The blue eyed blond is holding the twenty fourth place in Italy and five hundredth and twenty third place in Europe according to xvideos fans' votes. She is popular without a doubt, and that is proven from the millions of hits on her videos (more than twenty-one million people watched her videos combined). Her
measurements are heavenly
– 75C for her breasts, 58 cm for her waist and 86 cm for her hips. Michelle doesn't have silicone implants in her breasts or any other plastic surgery. She is all natural sweet blond. Unlike most other porn actresses, Michelle Ferrari has only used her first and only pseudonym. In 2007,
Michelle published her autobiography titled as "I Wanted to be Moana"
(Volevo essere Moana) which was edited by the biggest publishing company in Italy, Mondadori. The book came out at the same time with her mother's novel titled as "I Have Found the G-Spot in My Heart" (Ho trovato il punto G nel cuore).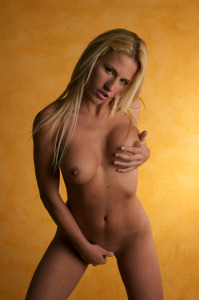 Besides her
acting career in primarily Italian porn films
(such as Michelle (2005), Amami zio (2006), Sbattimi dietro fino a farmi male (2006), Luna's angels (2007) etc.), Michelle has appeared in television programs such as Maurizio Constanzo Show and Il Bilvio. Being good in many fields besides porn industry, writing and television encouraged her to take part at the Radio DeeJay variety television Quasi T.G where she was the co-host of the Comedy Central show Il Filmaccio. Michelle apparently loves the comedy, because she has also taken part in the practical jokes of the FX Sexy Camera all'italiana in 2009 and of the Comedy Central show Sexy Angels in 2011. She is
active on her Twitter account
where she posts pictures of her lovely self, making happy over thirteen thousand followers every day. Her Facebook page though is much more attractive for her fans, because she is followed by over sixty-two thousand followers. She is active there too, and right at the
beginning of 2015 she made her fans happy
by posting some images of her upcoming calendar that can be completely seen on her personal website michelleferrri.tv. There you can see her doing live shows; you can watch videos from behind the scenes of her photo shoots and making of her films or buy her DVDs for very affordable prices. Her movies can be found on most popular porn website. She has engaged in
all kinds of porn activities
starting from girl on girl to threesomes. Besides her porn acting career, Michelle Ferrari runs agritourism (agriculture tourism where tourists can be taken to spend their vacation on a farm or ranch) with her mother.
Date posted: February 28, 2015