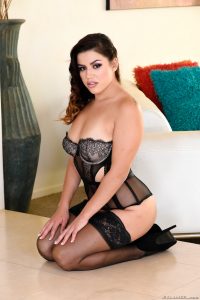 Meet Monica Sage, a new addition to the adult entertainment industry from Mountainside, New Jersey. She does not have much experience in the industry bust is looking to start her career with a bang! She professes to love sex and skips the hassle of work to do what she loves on a porn set. Monica Sage is a shy looking girl at first glance, but do not mistake it for being timid. This starlet despite lacking much experience on set, she can take a monster dick in her pussy and asshole and still look super-hot while at it.
Monica Sage worked at a small Japanese restaurant whole taking a year off after high school, and a horrible customer experience pushed her to quit after working there five days. She gathered the money she had on her, $60, and booked a one-way bus ticket to Los Angeles, and she is now on our screens on demand. She started doing oral for smalltime studios, but as her career progressed, she has become open to anything, and she is currently doing many firsts on camera.This sex bomb joined the industry in 2017 at 19 years old, and it is surprising what this barely-legal starlet could offer the adult entertainment industry. Her performance has been fascinating, and she is getting better.
Monica Sage has worked with various porn production studios and directors such as Net Videos Girls, Dogfart Network, Many Vids, My Very First Time, Holed, netgirl.com, and the ATK Network. She is on her way to the top, she looks mature for her age, and she will be taking on roles that they would not give to starlets under 25 years old. Join premium sites and request that they cast her on their sets. This will go a long way into motivating her and Foxxx Modeling the agency that manages her career to get her more work.Presently, it is easy to tell which of the many starlets joining the industry will survive to shoot MILF scenes. Monica Sage has an iron will, and an ambitious talent all that has worked to push her to improve her performance. She is a porn sweetheart, and we hope that she remains active in the industry.
Date posted: May 30, 2018