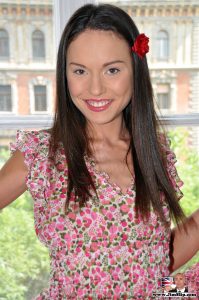 If there is any tight teen ass that looks great at taking it up the ass, then it is the Russian starlet Nataly Gold who's body fits of a name such as hers. Chances are this is a name that you might not have heard of because of the wide array of distributors that she has worked with, but some of her obvious favorites include Evil Angel, Juicy Entertainment, and legalporno.com. One of her first films was surprising enough Woodman Casting X 88 by Woodman Entertainment in 2011. The reason why this interview was not used was not only because it was one of her first works but there is little talking that was going on in the video. She has only done one film this year which was by her favorite down at Evil Angel in the flick Rocco's Psycho Teens 10. If there is one thing that Nataly isn't then that word is lazy. I can say with the utmost certainty that there is still much more to come from this sexy little vixen.
A Lover Of Asses And Anal
There are two niches that Nataly can be commonly seen in which includes lesbian and anal. There is a fair bit of squirting, facial, and double penetration video alongside of these two niches to be noteworthy. All of the lesbian only films that Nataly has been in during her time in the industry includes such films as Pink on Pink 7, Hard in Love 2, Lezboxx 1, Fuck My Ass 5, Sapphic Sensation 3, Knocking on My Backdoor, and Big Toys No Boys 10.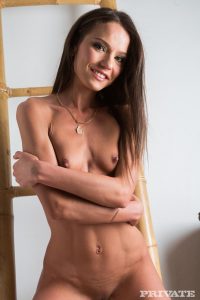 No if you are not impressed with this list then prepare to be because this is every third anal film that she has been in since she started her career: Bitches in Uniform 1, Legal Porno GIO074, Teens Want Double 9, Legal Porno GIO023, From Teen Ass to Teen Mouth 20, Teen Anal 4, Pump That Young Ass 2, Couples Seduce Couples 11, Jealousy, Legal Porno GIO162, Russian 1st Timers 2, Private Specials 82: Omar's Anal Adventures in Ibiza 2, and Rocco's Perfect Slaves 7.
One Of The Unsung Legends
Now here is where the sad part of her tales come in. It seems that despite the fact that she has won as award and has been in over 70 films there is nothing about her. Thankfully we have the guys down in the Adult DVD Talk Forums to fill out some holes for us on this tale. One of the main reason for her lack of publicity could be that this actress is not trying to promote herself. It seems that her favorites at Legal Porno are the only companies that are trying to get her face out in more than just videos. There is plenty of tasteful pictures down at the forums. One interesting fact about this actress that I have been able to dig up was that she has never refused to go to Legal Prono when they needed her. Right now the perfect thing that she needs right now is a parody movie to get a lot of people talking and interested in her. Also taking the time out to create a website can always do wonders for any pornstar career.
Date posted: May 2, 2017