Early life
Rachael Madori is an adult actress born on March 8th, 1993, in California but was raised in New Jersey. Rachael moved on her own and went living in Brooklyn, New York at a very young age. To this day she loves Brooklyn, and considers herself from there more than anywhere else. She was a straight A student but had no friends because the people in her high school were terrible and she never really connected to anyone. Rachel has two sisters, but is only close with her younger one. Both her parents know what she does for living.While growing up with her family she has been taught that porn is a nasty thing and even though she was watching it, she always had the feeling that she was doing something dirty. Rachel lost her virginity to her long term boyfriend when she was sixteen years old. Before porn she was a bartender and worked in bars around Brooklyn.
Porn career
She has been in the industry since August, 2014 and her first work was with MoFos.com. Also, Rachel has worked for many companies inculding
Brazzers
,
Naughty America
,
Kink
and
New Sensations
. Considering the fact that she is in a committed relationship, she says that her boyfriend doesn't mind her work (although he wasn't really happy at the beginning). Prior porn she never had sex on camera, but she was posting nudes on Twitter and one time she twitted to Brazzers that she wanted to become a porn star. Even though it was a joke, they responded and connected her to
MoFos.com
and that's how it all started. She filmed her first scene and did it pretty good, although she was intimidated. After that she and her boyfriend moved to California so she can be closer to work.
Personal life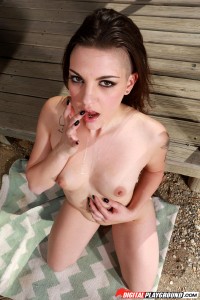 Rachel enjoys camping, range shooting, video games and physical fitness. But also she has passion for for the arts and attends Cullinary School. She is interested in research and education relating to mental illnesses and supports the American Foundation for Suicide Prevention. The AFSP is dedicated to saving lives and bringing hope to those affected by suicide.Another thing that her fans might want to know is that Rachael has been writing since a very young age and currently she runs her own blog where you can read a lot more about her life and passions.Rachel is an honest person and really dislikes that people stigmatize women in the porn industry. She says that she really is tired of people seeing sex workers as unintelligent. Being a porn star was her personal choice and she absolutely loves it and it wasn't the last hope to earn more money. In five years she hopes to be retired from porn, to finish her culinary school where she studies restaurant management and to have opened her own restaurant.
Date posted: August 10, 2016