Life before porn
The super-model looking Ryan was born on October 9, 1991 in North Carolina. This big blue-eyed doll grew up as an only child who did not have a lot of friends but had a very normal childhood. Her parents were often taking her to trips around USA and Europe. In her younger years she used to be a professional ballet dancer but she did not fit in because of her wide hips and curvy butt. After she graduated from high school, Ryan enrolled to college and earned a degree in Bachelors of Science in Statistics. Even though she is actively involved in the porn industry she is working on getting her Master degree.
Porn career
This tall and curvy blonde joined the industry not that long ago. In 2015, when she was twenty-four years old, Ryan shot her first scenes. Before becoming an active porn star, she used to dance in strip clubs (this was happening while she was still in college). Ryan always wanted to do porn because she is a fan of it, but at the same time she wanted to get her under graduate degree.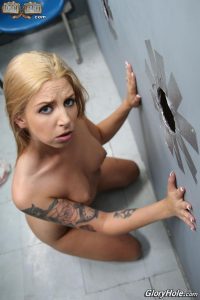 She did not want to be like Belle Knox who was trying to go to college and have successful porn career at the same time. After graduation she started researching agencies and once she found one she applied and got a call back. She shot her first scenes for Reality Kings. She has done a lot of hardcore, interracial, creampie, striptease and anal scenes. Her fantasy is to do a gang bang scene.
Personal life
In her spare time she loves running, traveling and playing video games (she considers herself a nerd). She is attracted to educated and smart guys and currently is in a relationship with a guy whom she knew before she started doing porn. Her entire family and her friends know about her porn career and they are all normal about it and support her decision. She has tattooed a quarter sleeve on her right arm and has smaller tattoos on both of her ankles. Her navel is pierced. In five years she still sees herself in the porn industry. Fans can follow her on her official Twitter page.
Date posted: February 14, 2017