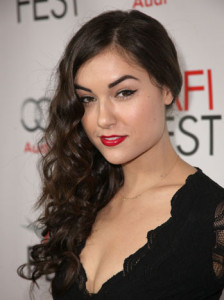 Marina Ann Hantzis 
aka 
Sasha Grey
 (born on March 14
th
, 1988) is a former pornographic actress and now a musician and mainstream actress. She appeared in black comedy/horror film Smash Cut and popular TV show Entourage, and she is also a former member of aTelecine, an industrial music band. Throughout her adult film career, she won numerous awards between 2007 and 2010, including the 
AVN Female Performer of the Year 
Award in 2008.
Personal information about Sasha
She was born in Sacramento, CA, and moved to Los Angeles when she turned 18 to pursue a career as a porn star. She grew up in lower-to-middle-class neighborhood called North Highlands. She went to college in 2005, balancing school and work, and maybe that's why some journalists consider her the smartest and bravest person they've ever met in the industry. This was the time when she started thinking about porn industry because she felt she could contribute to the porn world, so she started her research.
Porn career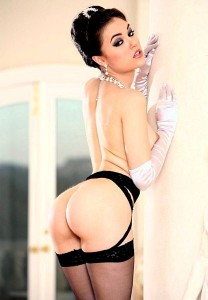 Sasha Grey finished her first year in the adult film industry being $200,000 richer along with an award from the X-Rated Critics' Organization for Best New Starlet. As her career developed, she was chosen  
Penthouse magazine
 Pet of The Month for July 2007 and was photographed by fashion photographer Terry Richardson. She was the youngest person to win the AVN "Female Performer of the Year" award, and she achieved it with her willingness to look at the camera and "connect" with viewers, always ready to express her sexuality on camera and to do anything to please the fans. Sasha appeared on The Tyra Banks Show in 2007, discussing teenagers in the sex industry, but there was speculation that the show was heavily manipulated through editing and did not include her defense of pornography as a career choice. Next year she was profiled in the Rolling Stone "Hot Issue" for the December 2008 edition. In 2011, she was named by 
CNBC
 as one of the 12 most popular stars in porn, and although she isn't in porn anymore, her movies are still wanted, and several companies continue to release compilations including her scenes.
Mainstream acting
After her mainstream debut in The Girlfriend Experience, a movie by Steven Soderbergh, she took part in the black comedy/horror film Smash Cut (2009) and in numerous independent films such as Quit (2010), Mark Pellington's I Melt With You (2011), The Girl from the Naked Eye (2012) and Open Windows (2014). She also appeared in season 7 of HBO's TV show Entourage, playing herself. Her mainstream work is not limited to movies. She appeared in several music videos (including Eminem's Space Bound and The Smashing Pumpkins' Superchrist), as well.
Interesting stuff about Sasha
On April 8th, 2011, she announced her retirement from adult films on her official page on Facebook.
Co-founder of the industrial noise band aTelecine. They play death dub, ambient, and experimental genres.
Starred in 224 adult films.
The name "Sasha" was taken from Sascha Konietzko of the band KMFDM, and "Grey" represents Oscar Wilde's novel The Picture of Dorian Gray.
She has Greek, English, Polish, Irish and Scottish ancestry.
She never takes off her silver thumb ring
Movies
Seinfeld: A XXX Parody (2009)
This Ain't Star Trek XXX (2009)
Nurses (2009)
Buttman's Stretch Class 2 (2009)
Don't Make Me Beg (2009)
Sasha Grey's Anatomy (2008)
Anal Acrobats 3 (2008)
Anal Cavity Search 6  (2008)
Bitchcraft 4 (2008)
Sasha's quotes
"Most of the triple X I see is boring and does not arouse me physically or visually. I am determined and ready to be a commodity that fulfills everyone's fantasies." "There's plenty of stuff that I'd like to do but won't, because I don't want to go to jail"
Awards
2007
– 2 AVN awards for "Best Three-Way Sex Scene" (
Fuck Slaves)
and "Best Group Sex Scene – Video" (
Fashionistas Safado)
and XRCO Award - "New Starlet"
2008
– 2 AVN awards for "Best Oral Sex Scene, Video" (
Babysitters
) and her most important award – "Female Performer of the Year", and XRCO Award for "Female Performer of the Year"
2009
- XRCO Award - "Mainstream Adult Media Favorite".
2010
– 3 AVN awards for "Best Anal Sex Scene", "Best Oral Sex Scene" and "Crossover Star of the Year", FAME Awards for "Favorite Oral Starlet", XBIZ Awards for "Crossover Star of the Year" and XRCO Award -"Mainstream Adult Media Favorite"
Sasha's Opinion
She said: "Many people in society believe that I am a victim. I was not sexually abused. I am not on drugs. The acts I perform are always consensual. I am a woman who strongly believes in what she does–it is time that our society comes to grips with the fact that "normal" people, women especially, enjoy perverse sex. I hope to inspire people all walks of life, and to collaborate with innovative individuals–bohemians welcome.
Date posted: May 21, 2014