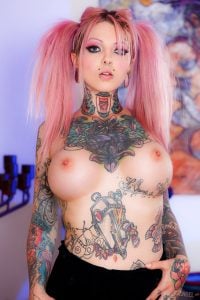 Meet Sydnee Vicious, a super-hot babe from Denver Colorado, and has gained a large following since her appearance for Burning Angels. She loves tattoos, and her gorgeous body is covered in them. Together with her piercings, she looks like a bad ass. Sydnee Vicious grew up in a conservative Christian home, her father a preacher and the president of the board at the school she attended. Her mother too was a teacher at the same school, so you can say that they did not expect their baby girl to end up in porn.While growing up, punks and Goths were her crowds and this had an influence on her personality and the many tattoos she now shows off to the world. She was into Hentai porn very early on as a teenager, and her motive to get into porn was the abundance of attractive, wild, and kinky babes. She is an anime and music enthusiast, as well as an avid reader.
Colorful Porn Career
We have had more than our share of tattooed starlets in the industry, but Sydnee vicious is a welcome sight. She has amazing tattoos, and she maintains that she has space for more. She has no qualms about fucking boys and girls, and it is a difficult task trying to differentiate which scenes are hotter. Since then she has become a fetish lover's wet dream, and porn connoisseurs cannot get enough of her beauty and talent.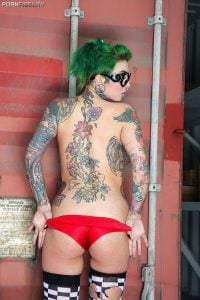 Sydnee Vicious has shot scenes for various porn production studios and directors such as Burning Angel, Exile Distribution, and Kelly Madison Productions. She is porn's best kept secret and there is a multitude of new materials due to be released soon. Follow her on social media to know the release dates of her new content.
Turning Heads in the Right Direction
Sydnee Vicious might not have as many scenes to her name as we would like to, but she has a vast collection of nude photos that will still work for getting your dick hard or pussy wet. It is the hope of thousands if not millions of people that she will remain active in the industry since we cannot get enough of her body, which she has transformed to a work of art complete with breast augmentation and she is turning heads in the right direction.
Date posted: February 26, 2018