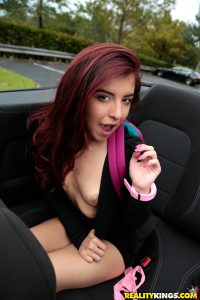 In the world of porn, you will be hard pressed to find another short redhead with the body of someone fresh out of high school or even younger. Vanessa is a Latina that can switch her race on the fly. You put her in some pigtails and glasses then she looks amazingly Caucasian. A little bit of lipstick and something skimpy then Vanessa got that Latina looks in the bed. There was a picture of her looking rather rough and smoking then you would have sworn that she was a Cuban. Vanessa chameleon abilities could have come from the fact that her brown hair has a bit of a reddish tinge that almost make it look brunette. Her hair looks like all of these colors yet none at all. Vanessa is not afraid to experiment with her looks and top that with her accent then no one could place her race just by looking at her. The first movie that she ever appeared in was on Reality King, released in 2015, called Holiday Hotness. Sadly this year she has only been in one movie thanks to the people at 100 Percent Freaky Amateurs that was called Homewrecking Babysitters 4.
The Inexperience Squirter
Unfortunately, Sally has not been in many films in her short career to the point where there is only one niche that she has done twice, squirting. The only two films that focused on her squirting is Squirting Teen and Summer Delights. Other than that it seems that the cornerstone of her career has relied on the teen niche with such films as Moms Lick Teens 5, Don't Break Me 3, Naughty Newbies: My First Creampie, Nerdy Gamer Hotties, and Wet and Rowdy Teen.A surprising amount of movies also has her taking a hot load to the face, in the end, not counting the squirting movies that also had a creamy ending, includes Sally Squirtz: It's a Family Affair, Quality Time With Stepdaughter, and Pump It. Hopefully, in the next few years, we can start to see some more content coming from this one of a kind pornstar. Sadly not many four feet woman in the world of porn.
Least Know The Better?
It is always a shame when there is nothing at all about a pornstar. I went looking high and far for anything about this actress and nothing. Thankfully we can always trust the guys at Adult DVD Forum to provide us with an explanation. It seems that they theorized that her name change is the main reason why any information was challenging to find about her. It does not help that apparently, she looks strikingly similar to
Casey Calvert
and
Aidra Fox
. She is currently doing shots with TeenFidelity with a photo that I urge you to see if you like the way that this actress looks. An interesting fact that I was able to dig up is the fact that she is possibly pregnant but take this with a grain of salt.
Date posted: April 4, 2017