Early Life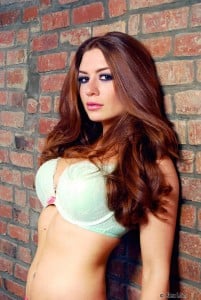 Veronica Vain was born on May 3, 1991 in Georgia. She lost her virginity when she was seventeen years old but it was a disappointing experience to her. She also has been with girls but as a part of a threesome that involved another guy. Her mother knows about her work in porn and although she was surprised at the beginning she supports her, just like her long term boyfriend does.
Porn Career
This Georgian ginger beauty made a breakthrough in the porn industry after she left her Wall Street job in order to become a porn star. She has a good reputation intellectually so nobody expected from her to quit her job for the porn industry. That news echoed like a bomb and suddenly she got the desired attention. She is a smart girl who loves finances and worked well in her former job, but sitting at a desk for eight or more hours was draining the life out. She was bored at work and was often masturbating under her desk (which of course is forbidden). She had a long and through thinking about her decision, but in the end she decided that porn was what she wanted because she enjoys sex, learning new things and talking about sex.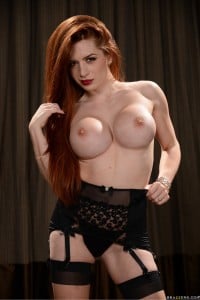 Veronica, whose real name is Paige Jennings was an intern at Lazard Asset Management. She created a Twitter account where she posted her nude photos and within 24 hours her Wall Street employers found out about her porn star alter ego, Veronica Vain. She had a conversation with her boss which wasn't strict or anything, but it was awkward and perhaps even funny. She quit the job and that's how it all went from there. People who know her aren't surprised from her decision because Veronica is a fearless girl who is not afraid to take risks. Before she got into finances she worked as a stripper for four years. She hopes to film more scenes with anal sex, gang bangs and threesomes. Her very first scene was with
Manuel Ferrara
.
Personal Life
Veronica is in a relationship and lives with her boyfriend. At the beginning the whole job in the porn was rocking their relationship, but not because she had sex with other men, but because while she was filming she wasn't available and because she was absent from home for a long time. She says her boyfriend doesn't mind seeing her having sex with other men, because he already saw that in their private life where he gang banged her and saw in person other men having sex with her. In her free time Veronica likes to play video games, have sex and do fitness. Her favorite TV show is Game of Thrones. In the future she hopes to have some porn related business and being a smart girl who knows how to work with finances, it is highly likely that she will succeed.
Date posted: September 6, 2016