Life before porn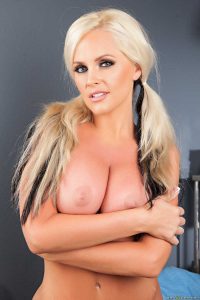 Very little is known about this blonde bombshell's early life except that she was born on August 25, 1981 in Arizona. She started her porn career in 2013, when she was thirty-two years old and belongs to the group of porn stars who jumped into the industry quite late in their lives. Although she is still quite young, she was immediately labeled as a MILF actress and was casted in genres like that. Within the past three years, she took part in some notable film titles such as Anal Craving MILFs, 2 Super Anal Cougars 5.3 Feeding Frenzy 12,4 Feeding Frenzy 125 or Brother Load 8.6.
This year (2016) she got her first AVN nomination for the category MILF Artist of the Year and Best Oral Sex Scene for Wet Food 67. She also received another AVN nomination for 2017 in the category Hottest MILF (fans choice). Within her career of three years she has shot more than 50 films.
Personal life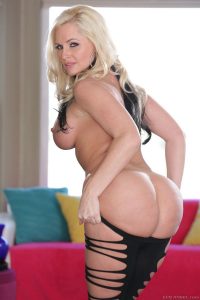 Alena is a normal girl who says that she doesn't get recognized too often in public. Only once people recognized her (in her native Arizona) and she felt very uncomfortable. Her family doesn't know about her new job; only a few of her family members found out and they were really unhappy about it. Her friends on the other hand, fully supported her decision to switch to porn.
She usually wakes up early in the morning, goes to the gym, and when she returns she starts doing her webcam shows (9:30 till 3pm). She is doing regular house errands like cleaning or doing laundry. Alena lives with her fiancé who is her biggest supporter and fan of her work.
Date posted: January 23, 2017