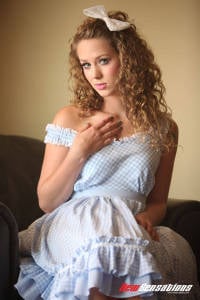 Kimber Day is a stunning young auburn haired beauty who is new porn; she only
started her career in 2013
but you wouldn't know it by watching her. This little sweet heart with her beautiful green eyes, pretty smile, and tight little body looks nothing like the cock worshipping slut she really is. Kimber may act sweet but when the camera turns towards her she is up for anything. What's most surprising about Kimber is that she didn't jump into porn the second she could.
Born in Arizona in 1993 she eventually moved to California
to become rich and famous. She started out working for none other than Victoria Secret but not as model, even though she easily could have been, but as a cashier before becoming a beauty specialist. It turns out that Ms. Day isn't the best at finance and was accidentally giving back too much money.Soon after she jumped ship at Victoria Secret to become a receptionist for a small porn studio. In 2013 she decided it was time to get behind the camera herself. Kimber first proved herself  on camera by taming tight pussies with a strap on in some of the most
hardcore girl-on-girl action
around. It also gave a chance for her to show the world her incredibly long tongue that she can lick her own elbow with.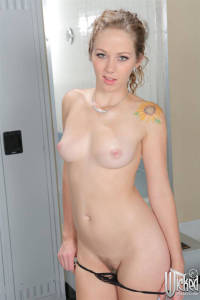 Kimber puts that tongue to work when she is devouring pussy. That
incredibly long tongue
can explore the deepest parts of any young pussy. Kimber Day isn't all about the ladies though; she can put those skills to work on any hard cock too. In fact in interviews she has talked about how much she loves the feeling of big cock inside of her.She has spent plenty of time showing us all how well she can take that long tongue of hers and wrap it around even the biggest cocks. Dishing out blowjobs that are impossible to forget to get them good and ready for the ride of a lifetime. Kimber has said that
her favorite position is doggy style
because she loves the feel of a cock deep inside of her. All of her fans love seeing her do doggy because of how well it shows off her perfectly round ass. She's so limber though that she can stretch her body into any position that you could hope for; even putting her legs far behind her head.When not on set Kimber has some surprisingly deep interests that the average person would never guess. She is a big fan of physics for a start; especially the study of things like the Higgs-Boson or God Particle. Kimber is also a big music lover, but instead of hip-hop or rock, she enjoys the blues. One of her all time favorite artists is Judy Garland. Her taste in celebrities is just as surprising with
her male favorite being Robert Downing Jr.
and her female favorite being Dakota Fanning. In an interview with Spizoo Kimber admitted that she would actually love to eat Dakota Fanning out if she ever got the chance.
Date posted: March 18, 2015