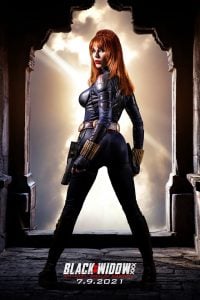 It's been a while since we've seen such a high production value parody. The pandemic was the reason, but now the long-awaited Axel Braun parody is here. It's the spoof of the latest Marvel/Disney superhero movie Black Widow that features beautiful star Scarlett Johansson. She is extremely hot, and her figure and her costumes are perfect for a porn parody, which is obviously exactly what four-time AVN Director of the Year and the kind of the parodies Axel Braun thought. The whole cast and the story look intriguing, and the cover girl Lacy Lennon is in the leading role. Elena Koshka and T-girl Casey Kisses are her co-stars and are here to make this movie even more appealing and kinky. It has 3 parts and lots of different scenes. It's packed with hardcore action, so there is a lot to see in this latest parody by Wicked Pictures.
The Movie
Black Widow is so hot right now. It's one of the
newest Marvel movies
, which is automatically something that people talk about. Secondly, Scarlett is suing Disney, and you don't want to piss her off. She looks so good in this movie. We won't be reviewing that movie though, but we'll only focus on the Black Widow character, because that's what this porn parody is revolving around. Black Widow XXX is the freshest parody in the porn world and we couldn't be happier that it got released in July/August 2021. Natasha Romanoff aka Black Widow is a great character for a porn spoof, and this established duo
Axel Braun
and
Wicked Comix
surely knew how to exploit that. Her leather costume, her amazing curves, big lips and red hair are perfect for a porn movie. Once again, Mr. Braun picked some great performers for his movie, including 3 stunning babes
Lacy Lennon
as Natasha,
Elena Koshka
and
Casey Kisses
, as well as a handful of well-known male stars such as Mick Blue, Ramon Nomar and Seth Gamble. You'll see all the characters from the Hollywood movie, including Yelena Belova and Taskmaster. However, there are a few things that are not the same, and that's the main story and a few characters such as
Deadpool
. They all provide great performances that are Hollywood-worthy, especially Lacy. The
costumes
, the props and the scenery were well prepared and constructed. You can also expect some very hot moments, as well as some
funny
side notes and comments, so get ready to get hard and to laugh hard.
The Scenes
There are only
3 sex scenes
in this movie, but it looks quite enough because we were waiting for over a year for this kind of movie to happen. They open up with
Mick Blue
speaking Russian. He has kidnapped Natasha (
Lacy Lennon
) and strapped her to a chair. They change a few words (and make a few jokes) before Natasha breaks free. Although she was able to get loose and miraculously change her outfit, she decides to stick around for a bit more so Mick and his bodyguard (
John Strong
) can bang her hard. The guys go back and forth on her pussy and throat, and she squirts a few times. It's one hot threesome!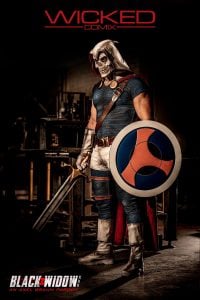 In the second scene we get to see a real Russian Elena Koshka, who's playing Natasha's sister Yelena Belova. It's still not her time to fuck, because Natasha has something else to finish. She has to go through Petra (
Casey Kisses
) first. This feisty redhead has to suck a T-girl's dick in order to infiltrate herself into some covert mission. She takes that big dick, rides it and then receives a creampie. Lacy also squirts in this one. It's another great performance by this young girl. In the last scene there are two new characters showing up to the party –
Deadpool and Taskmaster
. This one is also the funniest scene in the whole movie. After a few jokes by Deadpool, we get to see a hot foursome. Taskmaster in a guy in this parody, so two big dicks penetrate two tight pussies in the closing scene. They bang hard, but they don't change partners the entire scene. Yelena takes on Deadpool and even takes his dick in the ass. Natasha gets banged by Taskmaster and once again squirts during the orgasm.
Four-way
is always a good way to finish a movie.
Conclusion about Black Widow XXX
Axel Braun has created another masterpiece. We've waited a long time for one of his parodies to be released, and finally Black Widow XXX is here. He picked great cast once again, which is lead by Lacy Lennon. She showed us that she can act like a pro, and we already knew that she can fuck like a real pornstar. The movie provides all kinds of funny scenes, as well as hot sex scenes, which include a three-way, a four-way, girl/T-girl sex, anal sex, squirting and creampie. It all looks very kinky, especially because the costumes stay on during the sex part, and they are really authentic and make this movie really enjoyable. You can find this movie on Wicked's website, so don't miss these 3 hot scenes!
Watch Black Widow XXX >>
Date posted: August 10, 2021