Deadpool XXX has to be one of the best movies made by the award-winning director Axel Braun. The Deadpool character is perfect for this kind of parody, and Braun did a great job adapting this character and turning this popular comic book story into a porn parody. Seth Gamble, one of Axel Braun's favorite actors, plays the role of Deadpool, and he is absolutely great in this one and definitely deserves some kind of adult film award for it. One thing that helped him a lot is the costume that he is wearing in this film, because it's an amazing replica of the Ryan Raynolds' costume from the mainstream counterpart. Besides amazing costumes and great make-up, this movie offers many funny scenes, as well as many steamy hardcore scenes that feature popular pornstars such as Romi Rain as Elektra, Ana Foxxx and Jennifer White as Dominos and Wicked contract girl Jessica Drake as Lady Deadpool. You also get to see The Cable, Wolverine and the Punisher in action. The cast is well picked and the acting is good, and Wicked and Axel Braun did a great job once again!
The Parody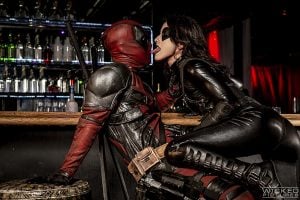 Deadpool is definitely one of the funniest guys in the world of superheros and this movie is something you can watch many, many times and not get bored. Those who haven't watched the mainstream movie with Ryan Raynolds should know that Wade Wilson, aka Deadpool is actually an anti-hero from the Marvel comics who's known for "having a regenerative healing factor", "his talkative nature" and his nickname "Merc with a Mouth". Axel Braun, one of the best directors in the adult film industry, created his own story with this popular comic book hero, and in his movie
Deadpool is making his own porn movie
, which has a lot of gorgeous women in it. He's also very frustrated because he can't get laid, but – spoiler alert – his luck is going to change. Seth Gamble is playing Deadpool, and he actually did a great job, especially in those monologue parts which Deadpool is known for. Besides Deadpool we get to see other well-known characters such as the
Punisher, Elektra, The Cable, Lady Deadpool and Wolverine
who is played by Tommy Gunn. The cast is pretty amazing, and you'll also see Avi Love, James Bartholet, Will Ryder, Peter O'Tool and Axel Braun in non-sex roles.
The Scenes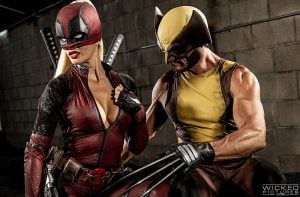 In the first few minutes of the movie we learn that
Deadpool (Seth Gamble)
is shooting his parody movie and that he's so frustrated because he can't get laid. He meets two gorgeous girls on the set –
two Dominos
that are played by gorgeous babes
Ana Foxxx and Jennifer White
. Deadpool is there with them, but he can't touch them, so he just watches them play with each other. The costumes stay on, but the girls find the way to finger and lick their tight holes and everything looks very naughty and sexy. They suck each other's nipples and clits in various positions, making the opening scene extremely hot. Next scene shows a bunch of directors and filmmakers, including Axel Braun, giving the young Deadpool some useful career advices, but the best thing that happened to him that day is when
Domino (Jennifer White)
gave him head at the bar. She's really good at giving sloppy blowjobs and you can see that Deadpool is enjoying it very much! She takes it in the throat and licks his balls a little bit, it's amazing. They're fearless and don't mind if someone walks in on them, they're superheroes. Eventually, some people come to the bar, but Deadpool has already spilled his juice all over the Domino's face. This scene got nominated for the 2019 AVN Awards in the Best Oral Sex Scene category. The people that come to this bar are actually
Electra (Romi Rain) and the Punisher (Ramon Nomar)
. They are another couple that loves to get dirty at the bar, and luckily for all of us they get very dirty this time. Electra gives him titjob first, before taking his big dick inside her mouth making it ready for her pink hole. She rides him cowgirl and reverse-cowgirl style, before he sprays his cum all over her big boobs.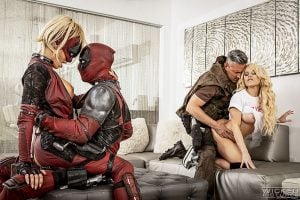 In the fourth scene we get to see the Cable (Brad Armstrong) and Lady Deadpool (Jessica Drake) for the first time. They talk about
Wolverine (Tommy Gunn)
, and apparently
Lady Deadpool
knows his very well, because guess what – they had sex before. Now that's what we get to see in this scene – Wolverine banging dirty girl Lady Deadpool. I've always loved Jessica Drake and I'm really glad that she's in this movie. She did a great job sucking on Tommy's hard dick, and even though the scene is a bit blurry (because we're watching her memory), you can still see how hot she is as she gets her pussy fucked in various positions. The last scene shows a very hot foursome, with
Deadpool, Lady Deadpool, Cable and a fluffer
in the spotlight. First they send the fluffer girl (Nikki Delano) in to warm up Deadpool's dick, and then Cable and Lady Deadpool start spooning on the sofa. A few moments later they switch partners and now you can see Deadpool banging Lady Deadpool's pussy. They switch back and forth, and towards the end the guys penetrate gorgeous Lady Deadpool at the same time – DP is definitely an amazing way to finish this movie. The guys cum on girls mouth and then they kiss – so hot!
Conclusion about Deadpool XXX
Axel Braun and Wicked Comics did it again! This movie deserves many awards because it's so entertaining and hot at the same time. Costumes and makeup are top-notch and the scenes are filled with steamy hardcore action, which you don't want to miss. The cast is awesome and you get to see everything from BJs to DP. We can now hope that they'll do many more parodies like this one!
Date posted: January 31, 2019