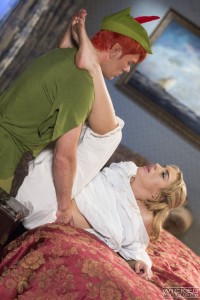 Peter Pan XXX: An Axel Braun Parody is the movie that will take you on a naughty adventure on the land where everything is possible. This is the
Wicked Pictures
response to the famous story of Peter Pan that was revived for a
modern remake "Pan"
, released at the beginning of October which features Hugh Jackman, Rooney Mara and Amanda Seyfried. However, the plot of the Axel Brown production is hotter and way naughtier. The names featured in the cast list will make you want to devour this porn parody and the things they do in front of the camera will surely make you want to fly through the screen in the magical realm of Neverland, where every fantasy is possible. Peter Pan XXX: An Axel Braun Parody is the
fourth production of the Wicked Fairy Tales
, after Cinderella, Sleeping Beauty and
Snow White
parodies, all directed by the same Axel Brown and featuring models just as hot as the ones in this production.
Winner of AVN Awards 2016 for Movie of the Year and Best Parody
The
cast of this porn parody is formidable.
The parts of Peter Pan and Wendy are played by Ryan Ryder and Kiera Nicole (also known as Cosmina Dunkin), while
Tinker Bell is played by no other than Riley Steele
. Not to sound weird, but I don't think there is a better choice for the role of Tinker Bell then Riley, and I know what I'm talking about, because I always thought Thinker Bell is a bit of a mega-hot slut. With those long skinny legs and the way too revealing skirt. In other roles we have Steven St. Croix as Capitan Hook,
Aiden Ashley
and
Mia Malkova as Mermaids
, Vicky Case as Tiger Lily and in secondary roles: Tommy Gunn, Jake Jacobs, Dane Cross and Jake Taylor.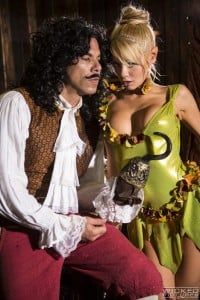 The porn stars are doing a great job both in the sex scenes and when they must act. I think the chicks were chosen more based on their acting skills, rather than looks or sex skills. However, as you would expect, the most popular porn stars are also good when it comes to acting, and that is why we have such a
hot casting list.
The Plot
What I like about this movie and the Wicked Fairy Tales series in general is the
big budget
. Not only that they got the best porn stars on the roles, but
the décor of the movie is formidable.
From the amazing costumes the porn stars wear to the settings in which the sex scenes are taking place, everything is flawless. On top of that, the editing team did a great job in post-production and the movie has that fantasy vibe because of the filters and color schemes chosen.
The
plot is very similar to the one of the original movie
, with minor changes to integrate the sex scenes. Peter Pan is helped by Wendy and the rest of the crew to save Tinker Bell from the evil Capitan Hook. But what makes this XXX parody really awesome is the actual sex in it.
There are 5 sex scenes
in it and three of them are threesomes (two FFM and one MMF). Besides that, the action includes lesbian scenes, DP, awesome BJs, anal, hairy pussies, multiple facials and face sitting. All in all, this is a great production which comes just great as completion in the Wicked Fairy Tales series. I can't wait to see what other famous stories Axel Brown will include in this series.
Date posted: November 3, 2015