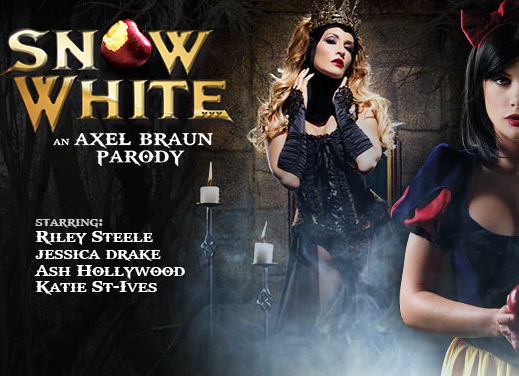 Studio
Based on
Snow White by Brothers Grimm
Starring
Jesse Jane, Jessica Drake, Ash Hollywood, Katie St. Ives, Alec Knight, Barrett Blade, Eric Masterson, Michael Vegas and Ryan Driller.
StudioWicked Pictures
StarringJesse Jane, Jessica Drake, Ash Hollywood, Katie St. Ives, Alec Knight, Barrett Blade, Eric Masterson, Michael Vegas and Ryan Driller.
Based on

Snow White by Brothers Grimm
Snow White XXX: An Axel Braun Parody
The legendary porn parody director Axel Braun (Axel Braun Twitter) and adult studio Wicked Pictures introduce a brand new genre in the porn parodies world – erotic fairy tales. It's a well known story of a beautiful girl Snow White, all the fairy tale features such as the magic mirror, the poisoned apple, and of course there is an evil queen who wants the beautiful young Snow White out of the picture. You won't see the seven dwarfs in the action, it would be too much for frail Riley Steele in the titular role, but there are some hot scenes involving Jessica Drake as the Evil Queen that will thrill you to death. A well written story and all-star cast surely promise to keep you entertained for the entire time.
The Story
The opening sequence shows Snow White dragged by a hoodlum and as they stop and the camera focuses on her beautiful tits (announcing some fine action with her later in the movie), the thug swings an axe and that's when the cut brings us to the beginning of this tale (outcome of this thrilling event is going to be shown at the end of the movie).
The story starts with the Evil Queen (Jessica Drake) in front of her magic mirror, when the King (Alec Knight) enters and after some small talk we find out that it's King's birthday. Jessica has a great surprise for her husband – a magic potion that creates two hot female ghosts (Ash Hollywood and Katie St. Ives), willing to do anything to pleasure their king. The girls start striping and kissing in front of him, but then they start sucking on his stiffed rod. After some more ass and pussy eating he fucks Ash in mish, then Katie in reverse cowgirl, and then Ash gets back on this time in cowgirl style. The girls form a 69, and Alec penetrates Katie from behind, ending with a pop shot on her ass. The Evil Queen was there all the time watching, so she orders the two girls to fuck him again, apparently she wanted to give him a gift for peace – eternal peace.
In the next scene the king is in his bed surrounded by his queen and a vizier, gone to his glory. His daughter Snow White enters the room and her step mother – the queen explains to her that he had a weak heart and so on. 
Jessica was having her hair brushed, when the thug with an axe (Barrett Blade) barges in. After a heated discussion they get it on in front of her mirror. He turns her over briskly and starts licking her rear end, fingering her both holes at the same time. After sucking his meat, she lies down on the bed and takes it missionary style, but briefly after that they get into the spoon and he penetrates the fine ass of hers. She rode him reverse cowgirl style before got a chance to fill her mouth with cum. Afterwards they cuddle a little bit and she explains him that she's going to rule the kingdom, all she needs is Snow White's youth.
That's when we get back to the opening sequence where Barrett is about to hurt the young Snow White, but but at the last moment he chooses to back off and he lets her go. She finds an abandoned cabin in the woods – a fine place to hide.
Next scene shows the unbalanced queen eating a beating heart thinking it was Snow White's, but then she finds out that her henchman has deceived her, because she isn't getting any younger. The queen all pissed off calls the ghost (Eric Masterson) out of the magic mirror. He looks funny and ridiculous with all the imitation jewelry, but he has a hard cock that will calm Jessica down, and that's enough for her. She drops on her knees to suck his dick, taking it as deep as she can. Then she has her pussy licked and fingered, and lets him slide his pecker into her wet pussy missionary style. Jessica rides Eric cowgirl style with couple of her own fingers in the ass, receives a cock from behind and it finishes with a nice mouthful of cum.
The Evil Queen poisons an apple, disguises herself as an old woman and tracks down the naive Snow White (Riley Steele). She offers an apple, Riley tries it and immediately falls into a trance. That's when she has a weird dream: she is in a dark room, lying naked, but she has company – it's her stepmother the queen Jessica Drake. Jessica explains her why she is jealous of her, but she also gives her a lesbian lesson. She sits on Riley's face and lets her suck her pussy, showing us a shiny butt plug sticking out of her ass. After Riley made her pussy really wet they switch, so now Jessica is in position to eat her passion fruit, playing with her little asshole along the way. They use a couple of black toys, first Jessica toys Riley's pussy, then they use it on themselves, ending it with some hard and intense fingering, but no anal play here, although Jessica had a butt plug for the entire time.
At the end the prince (Ryan Driller) shows up to save the day. He kisses young Riley and she wakes up, which was an introduction to the last sexual tryst. They kiss passionately and he pulls her two beautiful and firm boobs out of her dress and starts sucking them gently. Then he moves down to her bald pussy, and afterwards she shows us how pretty she is while giving head. After some spooning, they fuck reverse cowgirl and cowgirl style, she takes his cock from behind while on all four, and gives him a nice blowjob before stroking his cock for the last pop shot all over her mouth.
A month later, just before the wedding of Snow White and prince, the Evil Queen shows up and try to kill Snow White, but a knight (Barrett Blade) comes to the rescue and takes the queen out with a helmet. At the end the newlyweds come to their room, but when she lifts her veil she reveals her true face – she's the evil queen, and she starts laughing with her evil laugh. That ending was mega spooky and not so understandable.
When Watching Snow White XXX?
Wicked Pictures is the exclusive producer and on Wicked website you will find the full movie
Summary
It's a very good production, a great parody made by the duo that can't fail – Axel Braun and Wicked. The cast is very well picked; the titular role is assigned to one of the prettiest performers out there Riley Steele, and no one could do better Evil Queen than Jessica Drake. The story follows the essence of the fairy tale, but also has some interesting moments that can't be predicted and many hot sex trysts.
Details
Release date
Directed by
Produced by
Running time
Release date

April 2014

Directed by

Axel Braun

Produced by

Wicked Pictures

Running time

131 min.

Country

U.S.A

Language

English

Awards

N/A