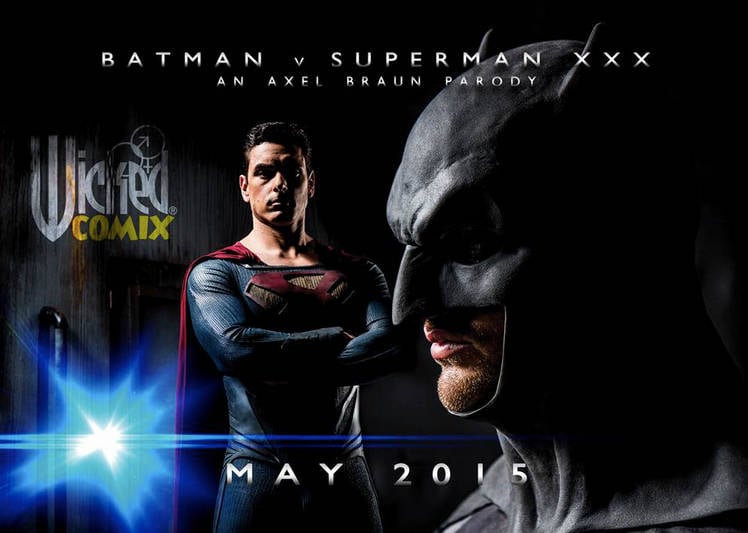 Studio
Based on
Batman v Superman: Dawn of Justice
Starring
Carter Cruise, Alison Tyler, Britney Amber, Kleio Valentien, Aiden Ashley, Celeste Star, Ryan Driller, Derrick Pierce, Giovanni Francisco, Brendon Miller
StudioWicked Pictures
Starring

Carter Cruise, Alison Tyler, Britney Amber, Kleio Valentien, Aiden Ashley, Celeste Star, Ryan Driller, Derrick Pierce, Giovanni Francisco, Brendon Miller

Based on

Batman v Superman: Dawn of Justice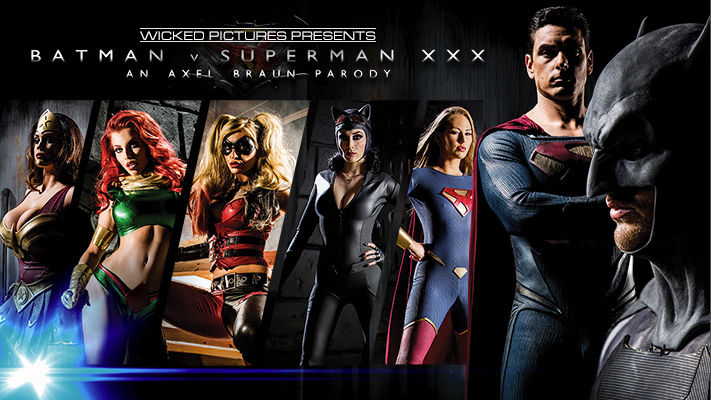 Batman V Superman XXX: An Axel Braun Parody was probably one of the most expected releases of this year in matter of porn parodies. Since Marvel went on and gave us a hero crossover with the Avengers a couple of years back, porn parodies with Marvel heroes were popular since 2010. However, the fans of DC Comics had to wait a while until their favorite heroes can be seen in hardcore sex scenes. The wait what worth the wile and now Axel Braun, one of the most appreciated porn parody director, and Wicked pictures, have launched the adult spin off of next year's release, Batman v Superman: Dawn of Justice. If you have a secret fantasy about the sex life of your superheroes, now you can watch sex scenes with characters such as: Superman, Batman, Catwoman, Harley Quin, The Joker or Wonder Woman. The entire movie can be found on the Wicked Picture website and it's only available to members. Read more about it in the rest of our review and convince yourself that you need to watch this movie.
Cinematography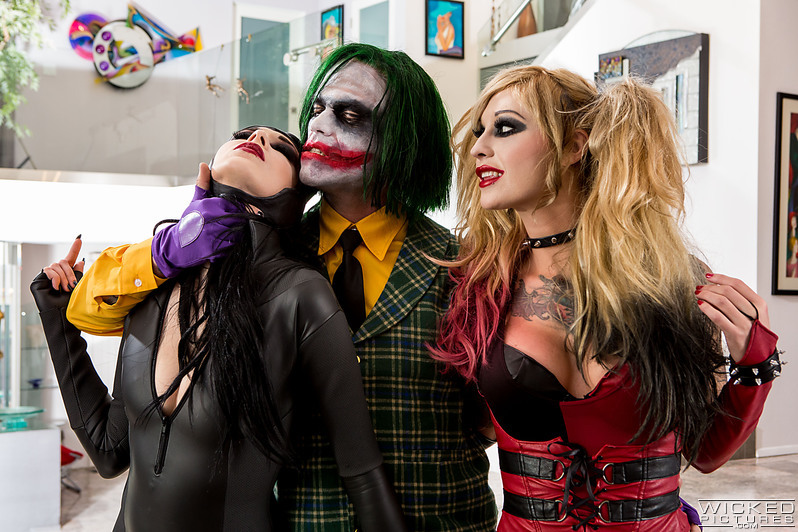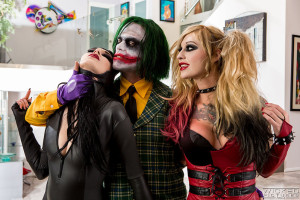 Since 2013's Man of Steel, the DC movies got a shady and dark vibe. Axel Braun quickly picked up on that vibe and shoot his movie in windowless rooms with dark backgrounds and a Gothic air to it. The entire movie is of course available in HD, option that's also offered by the Flash player of the site for online streaming. Since the original movie is not released yet, its plot wouldn't be familiar to the viewers of the parody, so Axel Brown ingeniously came up with his own plot, which is much better, since sees sexual encounters between the characters which were much expected by the audience.  We have a total of 5 sex scenes in this movie, each one more exciting and hardcore than the other. In the first scene, Britney Amber is playing the role of Maxima and she is having a hot encounter with the Man of Steel himself, all that after watching Louis Lane on TV. Batman stumbles across some great pussy too in a scene with Harley Quinn, played by Kleio Valentien, who is also having a nice FFM threesome with the Catwoman and the Joker. Superman finally meets Batman in the final scene, but they are teaming up to fuck the hell out of the Wonder Woman, played by Alison Tyler in a FMM threesome. It's clear that Batman V Superman XXX: An Axel Braun Parody is focused more on superheroes having sex than on the movie's storyline. That's not a bad thing, since the purpose of such parody is to satisfy our wild sexual fantasies with superheroes, which are pretty impossible to live.
Winner of AVN Awards 2016 for Best Screenplay and Best Special Effects
Batman V Superman XXX – Summary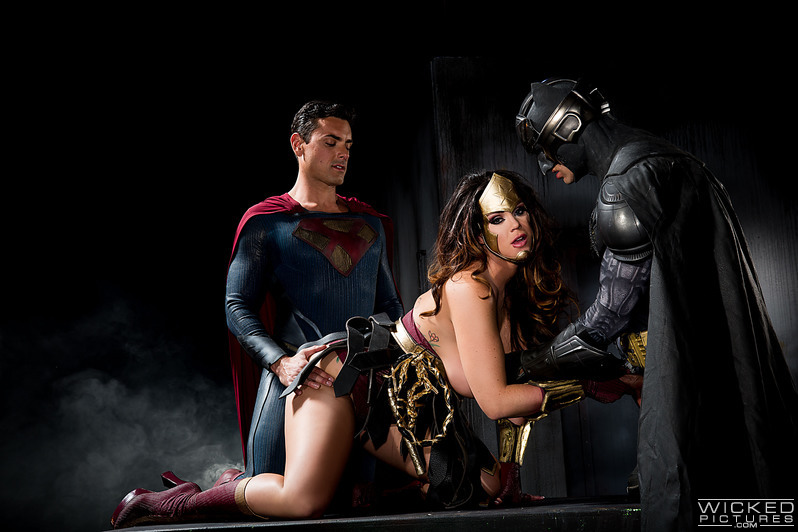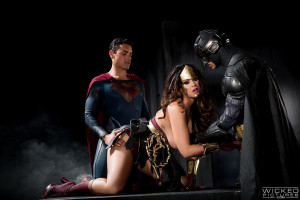 Even if it's a bit early for an adult spoof, since the movie wasn't even launched yet, the epic meeting between superman and batman is a hot topic and people are too excited to wait another year. The Batman V Superman XXX: An Axel Braun Parody was launched on June 15 and became one of the most popular watched porn parodies overnight. The viewer's feedback is also great, even if some voices are complaining about bad lighting, without understanding that in order to successfully spin off a movie, you also have to copy its cinematographic style, which is a dark one for the DC Universe. It's true that the movie has some really nice action, both when we talk about sex and acting, but the success of this release is due to the popularity of the original story. Nevertheless, Batman V Superman XXX: An Axel Braun Parody is a fun movie to watch and should be in the porn collection of every man who knows a bit of something about the DC universe.
Where to Watch Batman V Superman XXX: An Axel Braun Parody
Batman V Superman

 XXX Parody

 

is

 

an

 

exclusive of

 Wicked Pictures

. You can see it

exclusively

 on the official website
Formats available: FULL HD (1080p) HD (720p) SD HIGH (480p) SD LOW (240p)
Join WICKED PICTURES >>
Details
Release date
Directed by
Produced by
Running time
Country
Language
Awards
AVN Awards 2016 - Best Screenplay Parody
AVN Awards 2016 - Best Special Effects
Release date

Jun 15, 2015

Directed by

Axel Braun

Produced byWicked Pictures
Running time

2h 13min

Country

U.S.A

Language

English

AwardsAVN Awards 2016 - Best Screenplay Parody
AVN Awards 2016 - Best Special Effects